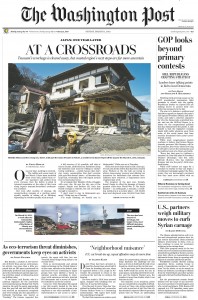 The Washington Post's Julie Eilperin has a front page story today that offers an excellent overview of the war on "eco-terrorism," including "Ag Gag" bills, FBI surveillance of environmental protesters, and the Animal Enterprise Terrorism Act.
Eilperin questions the two competing messages coming from the FBI and corporations that 1) "eco-terrorism" has been on the decline and 2) it should continue to be a top government priority.
Here's an excerpt:
Despite the decline in activity [by underground groups], the level of scrutiny has continued, say several who track state and federal enforcement.

"There's been very little change under the Obama administration," said Will Potter, author of the book "Green is the New Red: An Insider's Account of a Movement Under Siege." After factoring in several state initiatives on top of federal enforcement, Potter said, "The political climate as a whole has gotten a lot worse."

In the past few years FBI agents have suggested District police monitor animal rights protests outside the Vanguard Group's offices downtown because of its investment in a controversial animal testing facility, and they have mined a Web site, the North American Animal Liberation Press Office, for hints on upcoming activities, according to FBI documents obtained by Ryan Shapiro, an animal rights activist, through a series of Freedom of Information Act requests and other contacts.
Eilperin does a fantastic job connecting the dots between many examples, and I hope you'll read the full story. I've been covering these issues for more than a decade, as critical reporting on the topic has been completely absent from the mainstream press. This coverage on the front page of the Washington Post is yet another example of how that dialogue is quickly changing. Please share!