Ag-Gag Laws: Targeting Investigators, Whistleblowers, and Journalists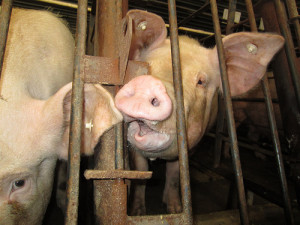 "Ag-gag" bills are being introduced around the country in an attempt to censor whistleblowers, investigators, and journalists who expose animal welfare abuses on factory farms and slaughterhouses.
Investigations by groups like the Humane Society, Mercy for Animals, and Compassion Over Killing have exposed shocking animal cruelty and consumer health dangers in the food industry. They have led to the largest meat recall in US history, criminal charges, and international media exposure.
Rather than put a stop to these abuses, corporations are trying to criminalize the whistleblowers who expose them.
Must-read articles about how ag-gag laws affect workers, activists, and journalists:
Television and Radio Interviews
The American Legislative Exchange Council (ALEC) and ag-gag:
Examples of ag-gag legislation:
Undercover Investigators Speak Out:
Here is a full list of recent articles about ag-gag bills: