Book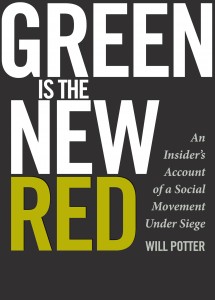 Order today!
Every copy ordered from this site is signed by the author.
$17
We have partnered with Pioneers Press to fulfill all of our merchandise orders, which means $5 flat shipping, and free shipping on orders over $50. Pick up a book, t-shirts and merch here to support independent journalism.
You can also order from:
"Part history, part action thriller and courtroom drama, part memoir, Green Is the New Red plunges us into the wild, unruly, and entirely inspirational world of extreme environmental activism. Will Potter, participant-observer and partisan-reporter, is the perfect guide…  Green Is the New Red is an indispensable book that will change the way we think about commitment, the limits of protest, and the possibility of radical change."
— Bill Ayers
"In this hard-hitting debut, journalist Potter likens the Justice Department targeting of environmentalists today to McCarthyism in the 1950s… A shocking exposé of judicial overreach."
— Kirkus Book Reviews (starred review for "remarkable merit")
"Potter warns of the crumbling of the legal wall separating 'terrorist' from 'dissident' or 'undesirable'. . . Alarming."
— Publishers Weekly
"A thoughtfully alarming examination of the U.S. government's post-9/11 domestic terror probes."
— Utne Reader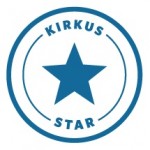 "Will Potter unveils this complex movement with its virtues and its flaws, the courage of a few and the false bravado of others. I see this book as the definitive overview of the genesis of what is emerging as the most important social movement in human history—the war to save ourselves from ourselves."
— Captain Paul Watson, Sea Shepherd Conservation Society
See what college professors are saying after they've used the book in their classes.
"A powerful exposé of how civil liberties are being threatened, how big corporations put young activists behind bars."
— Treehugger
"Activists, both aboveground and underground, need truth-seekers like Will Potter."
— Press Action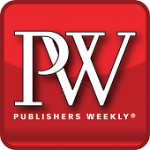 "A fascinating book that helps shed some light on how counter-terrorism efforts have eroded constitutional rights and continue to threaten democracy in America."
— Bill of Rights Defense Committee
"At times, the reader might mistake this work of nonfiction for a gripping crime novel, only to remember that everything in here is shockingly true."
— Indie Street
"If you read one book in 2011, make it this one."
— VegNews
"This book is at times scary, at times hopeful, and at all times important."
— The Urchins
"Heavy stuff that will piss you off. But in the course of all this Will Potter has also written a real page turner full of drama and excitement and hope."
— Herbivore
"Will Potter's Green Is the New Red brings us front line reporting from a sustained war against our basic freedoms."
— Firedoglake
"What is so endearing about Green is the New Red is that it's written in the style of a novel, not a reference guidebook on government conspiracies, which adds so much more to its credibility. Each chapter brings personal accounts of unfairness and malicious treatment of people who want to get involved with movements that would improve our society. Whether you believe in the methods of these activist groups or not, the facts are glaringly obvious; there is a need for a change in the definition of terrorism and treatment of activists."
— Portland Book Review
"Potter is what journalists are supposed to be: fair, balanced and transparent. He freely admits his political views, but is unbiased in his writing…  It's a beautiful narrative, an emotional journey, and a chronicle of both past and current challenges by the government to our civil liberties."
— Goodreads reviewer
"Potter deftly weaves together the political and legislative history of the Green Scare with a personal account of his role in the environmental and animal-rights movements as a writer and reporter and as a friend of some of the key figures. The story he tells is compelling in its narration, shocking and infuriating in its revelations, and ultimately inspiring in its portrayal of exceptional individuals who endured government harassment and imprisonment for their commitment to a just cause."
— Encyclopædia Britannica blog