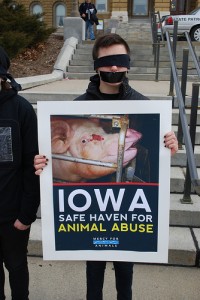 Iowa is set to become the first state to pass one of the recent "Ag Gag" laws introduced across the country to target undercover investigators who expose animal welfare violations on factory farms.
House File 589 creates a new crime of "agricultural production facility fraud," and it has already passed the Iowa House and Senate with bipartisan support. It is on the desk of Gov. Terry Branstad for signature or veto.
The bill, and similar efforts such as Utah's Ag Gag bill, carve out special protections in the law to shield factory farms from public scrutiny.
As Randall Wilson of the Iowa Civil Liberties Union of Iowa said: "We all know it's a thinly veiled attempt to eliminate investigative reporting and whistle-blowing regarding abuses in our food production chain."
It should come as no surprise who is behind these efforts. For example, Iowa State Rep Annette Sweeney, a proponent of the bill, is the former Executive Director of the Iowa Angus Association. And Simpson Farms, Florida's second biggest egg producer, helped draft the language of that bill target animal welfare activists with up to 30 years in prison. It failed.
These Ag Gag bills comes at a time when undercover investigators have changed the national dialogue about factory farms, and brought images of standard industry practices into the pages of national newspapers and the evening TV news.
Rather than take responsibility for systemic animal welfare violations, corporations would much rather punish, and silence, the whistleblowers.
Do you want to know what Big Ag trying to hide?
Check out this video from Mercy for Animals that includes undercover footage from factory farms in Iowa.
Then call governor Terry Branstad at (515) 281-5211 and urge him to veto the bill.