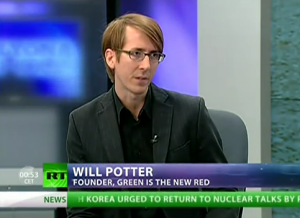 I was on the Alyona Show last night talking about emails between the PA Department of Homeland Security and a private counter-terrorism firm comparing environmental groups to Al-Qaeda.
In September, we learned that the Pennyslvania Department of Homeland Security distributed reports on the activities of non-violent animal rights and environmental groups, such as screening the film Gasland. New emails between James "Tim McVeigh is Not a Terrorist" Powers and the Institute of Terrorism Research & Response compare these groups to Al-Qaeda.
On May 3, Mike Perelman of ITRR emailed James Power of homeland security:
"The Internet is an incredible force multiplier — example: I doubt that the Rainforest Action Network or the Ruckus Group number more than 25 people each. But they have incredible reach, sophistication, and influence on local groups."
Perelman then wrote: "Shades of Al Qaeda!"
Unfortunately, this isn't an isolated case.
Pennsylvanians are calling on Gov.-elect Tom Corbett to stop government agencies from spying on people because of their political beliefs. Corbett hasn't taken any action.
If you missed the last segment on the Alyona Show:
"Eco-terrorist: The new Boogeyman"
Also, check out Donald Gilliland's detailed piece in The Patriot-News.