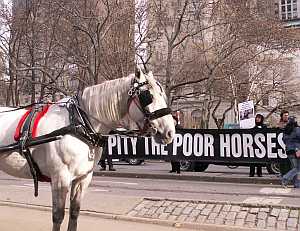 Pennsylvania's Department of Homeland Security has distributed intelligence bulletins warning that an animal rights protest against the use of carriage horses could be "a fertile recruiting or meeting ground" for extremists.
As I have written here previously, the bulletins notified law enforcement of meetings by non-violent environmental groups, including a film screening of Gas Lands.
Gov. Rendell's office has released all 137 state-issued intelligence bulletins produced for the homeland security department by a private firm called Institute of Terrorism Research and Response. The bulletins also warned of antiwar protests at a defense contractor: "When their focus is not directed at Lockheed itself, protesters will likely gather at the traffic light on the corner of Mall and Goddard to wave signs at cars," the bulletin said.
The head of homeland security, James "Timothy McVeigh is No Terrorist" Powers, awarded the contract to the private firm with no competitive bidding. In a leaked email, Powers had said that he wanted to protect "natural gas stakeholders" from those "fomenting dissent." He signed a form that said the contract with ITRR should bypass a competitive bidding process because the threat was so urgent:
"Without this information, the ability to protect commonwealth assets and resources while simultaneously alerting/notifying private sector owners/operators of the potential and/or credible threats/warnings is severely hindered."
The ACLU of PA has called on the governor to fire Powers. Kudos to them. But let's not stop there. Pennsylvania, after you kick Powers to the curb, some good folks in Minneapolis and Chicago could use your help doing the same.