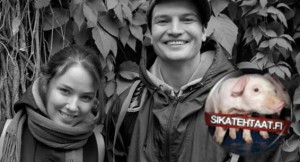 Two animal rights activists in Finland have been found not guilty on nearly all charges related to their undercover investigations of factory farms, which revealed sick, injured, and dying pigs.
Karry Hedberg and Saila Kivelä of Oikeutta Eläimille (Justice for Animals) were charged with "aggravated defamation" because of their exposés.
According to Finnish news outlet Helsingin Sanoma.
…the court found that the aim of the defendants was to raise critical debate on the conditions in which pigs are kept in Finland. With that in mind, they had recorded material which was disadvantageous from the point of view of the owners of the piggeries.

As it had not been asserted that the recordings had been doctored in any way, the court found that selective use of camera angles could not be seen to constitute false or suggestive information.

In the view of the court, freedom of speech needs to be considered, even though the pig farms were depicted in a negative light in interviews
In other words, the videos and websites the group created were free speech, and did not qualify as "defamation" because they were accurate depictions of the cruelty of factory farms aimed to "raise critical debate."
Hedberg was given a 20-day suspended sentence because he trespassed in order to create one of the videos.
This is major victory against "Green Scare" style court cases in Finland, and let's hope it's foreshadowing of what will happen in the case of the Spanish 12 and ag-gag bills in the United States.