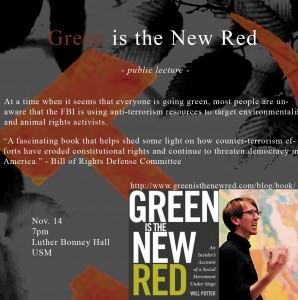 I'll be speaking in Maine on Monday, November 14 at 7pm. It's free and open to the public, so if you're in the area I hope you'll considering coming out!
From the University of Southern Maine's press release:
The University of Southern Maine will host a public lecture with award-winning journalist Will Potter at 7 p.m., Monday, November 14, Luther Bonney Hall, USM Portland.  In his lecture, Potter will discuss his new book, "Green is the New Red: An Insider's Account of a Social Movement Under Siege."  This event is free and open to the public…

This lecture is sponsored by the following USM departments and programs: the Department of Criminology, the Department of Economics, the Honors Program and the Department of Political Science.  For more information about the lecture, please contact Dusan Bjelic, professor of criminology, at 699-8271.