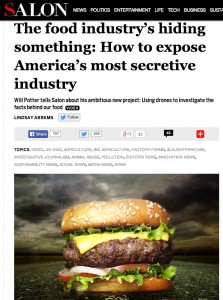 Salon has a great article on my Kickstarter project to use drones to investigate factory farms.
Here's an excerpt:
Enter Will Potter, an investigative journalist and 2014 TED Fellow who's dedicated his career to animal rights and environmental issues — and to exposing the way people dedicated to such causes are treated as domestic terrorists by a government primarily interested in promoting corporate interests. Last week, Potter took to Kickstarter to pitch an ambitious new investigation: he's going to find out what's really going on at the factory farms and slaughterhouses hiding behind ag-gag laws.

And he's going to do it using drones.

It took only five days for Potter to meet his fundraising goal. As of Friday afternoon, he's raised $35,000 and counting to pay for everything he needs to produce his "aerial exposé": the drones, but also travel expenses, production costs for planned documentary and e-book, and plenty of legal counsel. The challenge now is going to be figuring out how to actually pull this off. It's unclear he'll find what he's looking for, Potter told Salon, and whether he'll be able to look at all without breaking the law. But he's excited to try.
The Kickstarter has been so successful (fully funded in 5 days, and more than 700 backers!) that it has now been expanded! Please consider donating so we can make the project even better.
Check out what Mark Bittman of the New York Times had to say about it:
Using drones to bust the food industry: http://t.co/tSoo847jjy just super

— Mark Bittman (@bittman) June 23, 2014