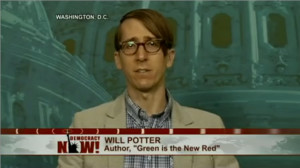 Democracy Now, the award-winning international news program with Amy Goodman, devoted its entire program today to "ag-gag" bills that criminalize undercover investigators who film animal welfare abuses on factory farms and slaughterhouses (and some bills, like Indiana and North Carolina, also include fracking, mining, and other industries).
Amy Goodman interviewed an anonymous undercover investigator who has worked with Mercy For Animals. It's a fantastic interview, and you can watch it here.

The show also featured a debate between me and Emily Meredith of the Animal Agriculture Alliance, a industry group comprised of corporations from the Big Ag industry and sponsored by companies like Monsanto.
Here's a summary from Democracy Now:
So-called "ag-gag" bills that criminalize undercover filming on farms and at slaughterhouses to document criminal animal abuse are sweeping the country. Five states, including Missouri, Utah and Iowa, already have such laws in place. North Carolina has just become the latest state to consider such a law, joining a list that includes Arkansas, California, Indiana, Nebraska, Pennsylvania, Tennessee and Vermont. Many of these bills have been introduced with the backing of the American Legislative Exchange Council, or ALEC, a mechanism for corporate lobbyists to help write state laws. We host a debate on the Ag-Laws with two guests: Independent journalist Will Potter; and Emily Meredith, communications director for the Animal Agriculture Alliance.
Want to take action? Please sign the petition at Change.org/AgGag