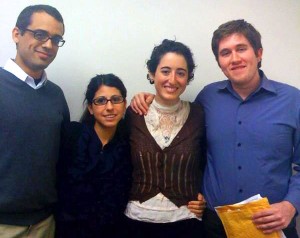 A U.S. District Court has thrown out the indictment of four animal rights activists who were charged with violating the Animal Enterprise Terrorism Act, because the government did not clearly explain what, exactly, the protesters did.
When Joseph Buddenberg, Maryam Khajavi, Nathan Pope and Adriana Stumpo were arrested in 2009, prosecutors said little other than that the group allegedly chalked slogans on the sidewalk, distributed fliers and attended protests. Later, when they were officially indicted, the government was still tight-lipped about how their non-violent, above-ground protests amounted to "terrorism."
In response, the Center for Constitutional Rights and attorney Matthew Strugar led an effort to have the indictments dismissed. In short, they argued that the charges should be dropped because they seem to involve only protected First Amendment speech, but that in order to make that argument the defendants' speech must be clearly identified.
Here's an excerpt from Judge Ronald M. Whyte's ruling:
In order for an indictment to fulfill its constitutional purposes, it must allege facts that sufficiently inform each defendant of what it is that he or she is alleged to have done that constitutes a crime. This is particularly important where the species of behavior in question spans a wide spectrum from criminal conduct to constitutionally protected political protest. While "true threats" enjoy no First Amendment protection, picketing and political protest are at the very core of what is protected by the First Amendment. Where the defendants' conduct falls on this spectrum in this case will very likely ultimately be decided by a jury. Before this case proceeds to a jury, however, the defendants are entitled to a more specific indictment setting forth their conduct alleged to be criminal. [emphasis added]
As background, a fierce campaign has been being waged in California against animal research at the University of California system. There has been a wide range of both legal and illegal tactics. Illegal tactics have included the destruction of UC vans, and an incendiary device was left at the home of a UC researcher.
The FBI and local law enforcement haven't been able to catch the people responsible, though. They've only cracked down on the above-ground activists, like the AETA 4, who protest and create fliers.
The previous version of the law was used to convict the SHAC 7 for running a controversial website that posted news of both legal and illegal actions. This case, the first use of the new Animal Enterprise Terrorism Act, was clearly an attempt to use this sweeping legislation even more broadly against First Amendment activity. This ruling sternly rebukes the government's attempt to take activists to trial for "terrorism" without even explaining what they have done.
To be clear, though, this case is not over. The government can still re-indict the defendants with an amended bill of particulars that clearly outlines their alleged actions.
This is a victory worth celebrating, and it should also be inspiration for renewed organizing. Corporations and the politicians who represent them have been pushing this "eco-terrorism" and "animal enterprise terrorism" legislation for years, and they will not sit quietly as the flagship case of their pet scare-mongering law is tossed aside.
If prosecutors choose to re-indict, it should be at their own peril; the animal rights and environmental movements must be ready to respond even more loudly, more forcefully, that activism is not terrorism.