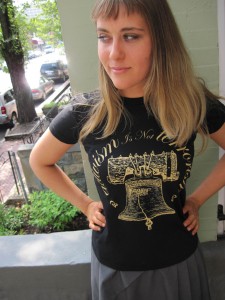 When most people think of "terrorism," they think 9/11, anthrax, and suicide bombers. Corporations and the politicians who represent them are aggressively campaigning to apply the word to animal rights and environmental activists who have done nothing like that. Some activists have faced terrorism charges for chalking slogans on the sidewalk and protesting. Activism is not terrorism.
Just in time for the national animal rights conference, we have these great new t-shirts. Thanks to Andy at Sparrow Media for helping make this happen.
Black American Apparel t-shirts, with a matte bronze ink. Text reads "Activism Is Not Terrorism." Available in either unisex or women's sizes, shown here on the always-lovely Cassandra (caught giving "sultry eyes" to a cast member of Jersey Shore… true story).
(Here is close-up view of the design on both styles of shirts.)
$20. FREE SHIPPING for U.S. orders.
If you haven't already, check out the rest of the GreenIsTheNewRed.com store.