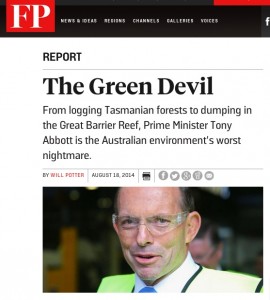 My latest article for Foreign Policy.
Hiking through the Tasmanian wilderness feels like a scene out of Jurassic Park. Overhead are the tallest flowering trees on the planet. Underfoot are so many layers of damp, mossy growth that, without stepping carefully, a boot could crunch right through. The Tasmanian devil lives here, and so do the platypus and wedge-tailed eagle; some Huon pine trees here are more than 2,000 years old. Located at the bottom of the world, Tasmania is a bioregion so unique that it is listed as a World Heritage site by the United Nations for "outstanding universal value." It satisfies more criteria for that designation than any other World Heritage site on Earth.
But for Australian Prime Minister Tony Abbott, this remarkable natural legacy isn't worth protecting. Instead, it should be stripped.
Soon after being elected in September 2013, Abbott started making plans to fulfill his campaign promise of removing some environmental protections on Tasmania's forest and opening it to industry, specifically logging. In March, he invited loggers to Australia's Parliament House and told them that members of the country's Green party were "the devil" and that "the environment is meant for man." The loggers were thrilled. [click to continue…]