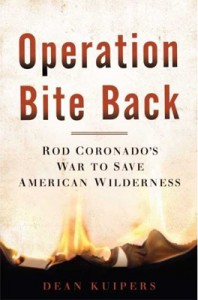 Want to win a signed copy of Operation Bite Back by Dean Kuipers?
Here's how:
Go read this post about a proposal to make secretive political prisons called Communications Management Units permanent.
Submit your comment against the unconstitutional and inhumane proposal (instructions are on that post, it's easy).
Leave a comment letting me know you submitted a letter (even better, paste a copy of what you wrote, to inspire others to do the same).

That's it! I'll randomly pick one comment (don't worry, folks who already submitted one will be included) and send the author a signed copy of Operation Bite Back, which is the story of Rod Coronado.

TAKE ACTION BY JUNE 2nd!

And if there are enough comments submitted, I have some other stuff to give away as well!