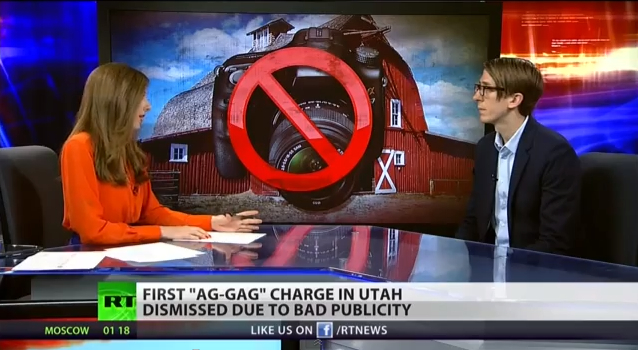 Tennessee Governor Bill Haslam has been inundated with calls and emails for him to veto "ag-gag" legislation that aims to silence whistleblowers who expose abuses on factory farms and slaughterhouses. He received more than 15 thousand emails. And of the 5 thousand phone calls, more than 90 percent urged a veto according to Nashville Public Radio.
More than 33,000 people have signed an ACLU petition against the Tennessee bill.
More than 75,000 people have signed my Change.org petition against the bills, nationally.
More than 300 ministers and clergy have urged Governor Haslam to veto. "Genesis 1 tells us that everything on the earth has been created by God, and that God has commanded humans to care for the animals," said Kathy Chambers, director of Clergy for Justice Tennessee. "Far too often they are subject to abuse which causes unthinkable suffering, clearly violating that mandate. As people of faith, we are called to speak out against injustice and cruelty in whatever forms they might take. Thus, we urge Governor Haslam to stand with people of faith across the state and veto this bill."
[That description of undercover investigations is quite a bit different from the bill's sponsor, Rep. Andy Holt, who compared it to rape and sex trafficking.]
Even Pork Network has had to acknowledge the outcry: "From celebrities to clergy, politicians to consumers, all eyes are on Tennessee Governor Bill Haslam as he wrestles with signing or vetoing the state's so-called 'ag gag' bill."
Here's a good example of how much these ag-gag efforts have backfired. I was asked to be on "Drake & Zeke," which is the top-rated morning show in Memphis. To be honest I was a bit apprehensive about this, because I didn't know if they'd be adversarial about the ag-gag bills. Boy was I wrong.
An excerpt from Drake & Zeke:
"[Ag-gag] does put people like Gov. Bill Haslam in a real tough spot. Because he, being a Big Oil, understands how all that works now doesn't he? So is he going to slap out at the Big Meat people? It's dangerous and scary to see. But we'll watch how the politicians let this one play out. Maybe the cicadas will eat them."
Here's another recent interview about ag-gag, about the first prosecution under one of these laws backfired: