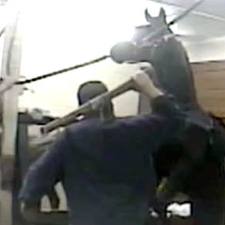 In Tennessee, a sweeping "ag-gag" bill is about to become law. It's just waiting for the governor's signature. The public backlash against these bills continues to grow, and groups like the Humane Society and celebrities like Carrie Underwood are calling for a veto. The ACLU is sending out action alerts to stop the bill. Every major newspaper in Tennessee has come out against the proposal:  The Tennessean called it "despicable and unconstitutional."
So how have Big Ag and allies responded?
Check out this exchange between the Humane Society and state representative Andy Holt, who compares undercover investigations to sexual trafficking and calls them "tape and rape." Keep in mind, he is referring to investigations that have exposed horrific animal cruelty in his state:
From: Andy Holt [rep.andy.holt@capitol.tn.gov]

Sent: Wednesday, April 17, 2013 11:26 PM

To: Kayci McLeod

Cc: Andy Holt

Subject: RE: Please Oppose HB 1191

Ms. McLeod,

I am extremely pleased that we were able to pass HB 1191 today to help protect livestock in Tennessee from suffering months of needless investigation that propagandist groups of radical animal activists, like your fraudulent and reprehensibly disgusting organization of maligned animal abuse profiteering corporatists, who are intent on using animals the same way human-traffickers use 17 year old women. You work for a pathetic excuse for an organization and a pathetic group of sensationalists who seek to profit from animal abuse. I am glad, as an aside, that we have limited your preferred fund-raising methods here in the state of Tennessee; a method that I refer to as "tape and rape." Best wishes for the failure of your organization and it's true intent.

Andy Holt

State Representative – District 76

Weakley & Northern Carroll Counties

205 War Memorial Building

301 6th Ave. North

Nashville, TN 37243

615.741.7847

rep.andy.holt@capitol.tn.gov

——————————————————————————–

From: Kayci McLeod [mailto:kmcleod@humanesociety.org]

Sent: Wednesday, April 17, 2013 1:44 PM

To: Andy Holt

Subject: Please Oppose HB 1191

Dear Representative Holt,

Have you seen the editorial in the Tennessean today opposing HB 1191, the whistleblower suppression bill intended to cover up animal cruelty?

The Tennessean editorial board condemns the bill, noting that the "bill would certainly take our state in the wrong direction, toward more senseless violence."

We very much hope you'll agree with the Tennessean and oppose this dangerous bill. Thank you for your time and consideration.

Kayci McLeod

Public Policy Coordinator

Farm Animal Protection Campaign

The Humane Society of the United States

T: 301 258 1564
Factory farms are freaking out about "radical animal rights groups" (like the Humane Society, apparently) but ag groups and their allies are their own worst enemies.
Shame on TN lawmakers for passing the Ag Gag bill. If Gov. Bill Haslam signs this, he needs to expect me at his front door. Who's with me?

— Carrie Underwood (@carrieunderwood) April 18, 2013