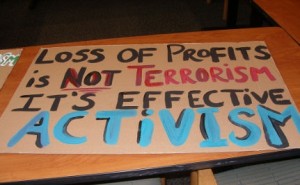 The National Lawyers Guild has a new report on state-level versions of the Animal Enterprise Terrorism Act that have been popping up around the country. As I've reported here previously, on laws such as the California Animal Enterprise Protection Act, they use sweeping, overly broad definitions of terrorism that are, in some cases, even worse than the federal law. (Here's one of my all-time favorite blog posts in which a Tennessee lawmaker describes how similar legislation is needed to combat "left-wing eco-greenies."
Take a look at the full report, and the influence of a corporate front group called the American Legislative Exchange Council: "Beyond the AETA: How Corporate-Crafted Legislation Brands Activists as Terrorists."
As NLG Executive Director Heidi Boghosian said:
"Although many states considered and outright rejected the ALEC bill soon after its release, there are still signs that parts of the legislation are being incorporated in some states' laws that equate animal rights activists with domestic terrorism."
The National Lawyers Guild continues to be out front on these issues, with its publication of a know your rights booklet for activists, and it's Green Scare hotline, 1-888-NLG-ECOL. And NLG lawyers around the country have been working hard on behalf of animal rights and environmental activists labeled "terrorists." If you're a lawyer, please join the Guild. And if you're not a lawyer, write a check, volunteer, or just drop them a note of support.