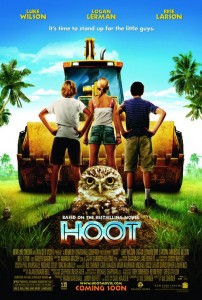 As if they hadn't sunk low enough already, key players in the Green Scare are now going after a children's movie.
The teenage characters in Hoot, which opens this Friday, fight to end a development project that threatens a population of endangered owls.
Cybercast News Service put out a press release, er, article, calling the film "soft core eco-terrorism for kids." The teens "trespass, rip up surveyors' stakes, place alligators in portable toilets" and commit other dastardly "eco-terror" crimes.
CNS turned to Green Scare pioneer Ron Arnold, who "had not yet seen the film when interviewed" by the author:
"Hoot's so-called harmless 'mischief' is training a generation to look cute while burning homes and cars and stores. Eco-terrorism is serious. Eco-terrorism is arson and pipe bombs and hate that hurts people and destroys lives," Arnold said.
The author uncovered disturbing evidence of "eco-terrorism" seeping into the minds of unsuspecting youth:
A seven-year-old girl who identified herself as Dillon noted that "it was a fun movie" and said she learned that "it's not good to kill animals."
Talk about a national security threat!
I wonder if lawmakers will go after publications like The Philadelphia Inquirer that have published glowing reviews of the movie (and thus endorsed "eco-terrorism) using the Animal Enterprise Protection Act. That's essentially what happened to the SHAC 7
Ron and CNS have a point, though. But let's not stop with Hoot. How dare any Hollywood film encourage children to take a stand and save cute little animals? After we run Hoot out of the theatres, we should take our torches to any movie store that rents that video training guide for the Animal Liberation Front, Free Willy.
As the masterminds behind this Green Scare would surely agree, we should be teaching children about freeing markets, not freeing Willy.