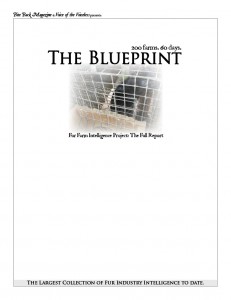 Peter Young's home was raided the FBI this week, and the search warrant repeatedly mentions his name in relation to "animal enterprise terrorism." In the last article we looked at how this Utah raid is, ostensibly, related to the investigation of an Animal Liberation Front raid at the University of Iowa.
As with all of these cases, though, it's important to put this in a bigger political context. Few attempts have been made to connect Young to Iowa (the government argued in court that Young was an "associate" of Scott DeMuth, the defendant in the Iowa case, because DeMuth identified someone in his journal as 'P').
Young says he has never met DeMuth, a graduate student whose research has included radical social movements.
However, attempts have been made to repeatedly label Young a "terrorist" not for underground crimes like raiding fur farms (which he was convicted of years ago) but for lawful, aboveground, First Amendment activity. For instance, he published The Blueprint, a listing of fur farms in the United States.
Young wrote in the introduction:
While past fur industry investigations focused on the treatment of animals, this one sought something else: names and addresses. Of all forms of animal rights outreach, the dissemination of "names and addresses" is at once among the most overlooked, and most potent…

The fur industry is among the most vulnerable targets in our sights. We rented a car, and set out to create the roadmap to its collapse.
Fur farmers responded by labeling this document, which is listing of public information obtained lawfully and disseminated lawfully, a "terrorist handbook."
Multiple newspapers in Utah and Wisconsin published stories with industry soundbites along these lines. The Park Record in Utah reported:
"'The Blueprint' is a little disturbing. Basically, what 'The Blueprint' is, is a terrorist handbook," a mink rancher in Coalville told The Park Record on Wednesday.

The man, who is in his 20s, spoke to the newspaper at his ranch on the condition of anonymity.

"All this is is domestic terrorism, and I have a target on my back," he said in the interview. "They're out there calling death threats in to ranchers. We spend many sleepless nights on the ranch."

Most times he is armed, the rancher added.
All of this has the effect of increasing fear of animal rights activists as "terrorists," and legitimizing any subsequent actions such as FBI raids of activists' homes. As in all of these Green Scare cases, these media campaigns and this raid are, above all else, about instilling fear.