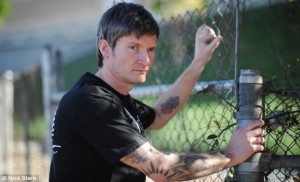 The story of Mark Kennedy, the undercover cop who targeted social activists throughout Europe, was shocking to activists and the general public alike — among them Kennedy's former friend Jason Kirkpatrick. Now, Kirkpatrick is creating a documentary about Kennedy's spy ops. He'll be in New York City and San Francisco this month to preview clips from Spied Upon.
I caught up with director Jason Kirkpatrick him in advance of this to talk about his work:
Q. While the scandal surrounding former British undercover policeman Mark Kennedy is well known in the UK and Europe, it's not commonly known in the USA. Why is the Kennedy case important for North American activists?
A. Kennedy went deep undercover starting in 2003 in England, targeting Earth First!, which has been a main focus of FBI repression since the late 1980's. Kennedy spent an incredible 7 years spying on various environmental and social justice movements across Europe, and also in the USA. He worked under contract for the FBI, and his story has received some coverage in Rolling Stone and the New York Times even, although this story has not broken much in activist circles for some reason.
Q. Explain the connection with private security firms.
A. The information exposed because of the Kennedy scandal has allowed us to see more clearly the links between private corporations and private security firms, and their often illegal collaboration  with private security firms and politicians. In the UK, it came out for example that energy companies such as BP have hired private spies to keep tabs on climate changes activists, especially from groups such as No Dash For Gas.
Interestingly, before Mark Kennedy's seven year undercover operation came to an end as his unknowing activist girlfriend figured out he was a spy, he had actually started a private security firm of his own. He was traveling across Europe too, for example, saying he was an Earth First!er and spying on animal rights groups in Italy. In 2013 Kennedy testified in the British Parliament, saying he is advising the Los Angeles County Sheriff's Department, as well as a private security firm called the Densus Group.
Q. Is all of this a big issue in Europe?
A. The specific case of Mark Kennedy was a scandal in Germany, and debated in the parliament, partly because police say they sometimes didn't know why Kennedy was operating in Germany, or why he committed two crimes, including an arson in Berlin, around 2007/8. In the UK, it has come out that private spying has been unregulated, and the parliament there passed new laws in 2013 to bring the out of control private spying operations under control. However, these laws have not gone far enough. They still need to do things like ban sex between undercover spies and activists, which has been a big problem. International spying operations apparently are also unregulated in Europe. The case of Kennedy working for the FBI, and saying he got a commendation for his FBI work, also proves that the security apparatus in the USA is involved in these scandals as well.
Q. Do you know of any other similar issues in the US?
A. One big case that has never been explained, is why the FBI wrongfully arrested Earth First! activists Judi Bari and Darryl Cherney in 1990. The FBI paid out millions in damages to these two activists for wrongfully blaming the two for bombing themselves, but to this day the FBI has never actually tried to find out who tried to kill Bari and Cherney. Darryl recently made an award winning film called Who Bombed Judi Bari?, yet the FBI still doesn't want to investigate even though some fingers clearly point to the timber industry as those with motivations to stop plans for the Redwood Summer protests being planned. This and further issues detailed in the film makes one wonder about the cozy connections between the FBI and timber industry working together to attempt to damage or destroy Earth First!. I met Judi Bari, who lived in Willits, California where I went to High School, and I feel that justice needs to be served on this important case.
Q. What do you hope to achieve with your film Spied Upon?
A. There needs to be more consciousness about how governments work with corporations to deliberately damage popular social movements, and I hope this film helps to raise that consciousness. Also, the way the media covers the internet spy stories as revealed largely by Edward Snowden, is done in a way that is very impersonal, and can feel quite distant for those reading about this kind of spying. I want to make a film that shows the personal stories and human effects of spying, especially the use of undercover police targeting activists. I hope that revealing this human aspect, as well as showing people how to take action in the film, will motivate people to continue sustained activism and not feel powerless.
For further information and video clips, visit www.spiedupon.com.