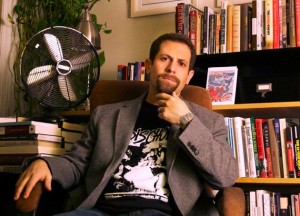 The open government website MuckRock has a wonderful interview with "FOIA superhero" Ryan Shapiro.
I recently wrote about Shapiro for Mother Jones, and discussed how his technique is so effective at unburying sensitive documents, the feds are asking the courts to stop him.
His interview with MuckRock goes into more detail about his groundbreaking work. Here's an excerpt:
MuckRock: What has to take place for meaningful policy level changes to FOIA laws? Will we ever see that day?

Ryan Shapiro: The first thing that needs to happen is for more people to use FOIA and become invested in it. It's for this reason (and many others) that MuckRock is such an invaluable resource and addition to the open government landscape. We also need more historians and journalists in particular to regularly utilize FOIA and promote the fruits of FOIA work.

I've already mentioned Will Potter's great work above, and I encourage everyone to check out his news site Green Is The New Red and his award-winning book of the same name. I'm also very fortunate to collaborate with the intrepid journalist and fellow FOIA-prosthelytizer, Jason Leopold, but he's a rarity.

Democracy cannot meaningfully exist without an informed citizenry, and such a citizenry is impossible without broad public access to information about the operations of government. The Bush administration initiated a disastrous welter of anti-transparency initiatives, yet the Obama administration has been, if anything, even worse. Despite entering office promising unprecedented openness, the Obama administration has provided just the opposite, including bringing more Espionage Act prosecutions of leakers than all previous administrations combined. It's not surprising those in power wish to keep their actions secret. What's surprising is how readily we tolerate it.

The Freedom of Information Act is one of the most underappreciated elements of the entire American experiment. As broken as FOIA is, the notion that the records of government are the property of the people, and all we need to do to get them is to ask, is radically democratic. FOIA must not only be defended against the FBI and others who view transparency as a threat, but strengthened, and dramatically expanded. The viability of our democracy depends upon it.