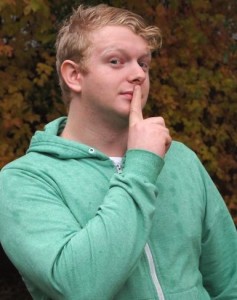 On the day after Christmas, it is likely that another anarchist will be imprisoned for refusing to talk about their political beliefs and their friends before a federal grand jury in Seattle.
Maddy Pfeiffer, 23, appeared at a contempt hearing last week and was ordered by Judge Jones to self-surrender to SeaTac FDC at 9 a.m. on December 26th. Pfeiffer had previously appeared before the grand jury and asserted 1st, 4th, and 5th amendment rights in response to every question asked.
Pfeiffer will join two other young anarchists who are currently imprisoned for making the same principled stand, refusing to talk about their political activism and refusing to help the government identify leftists and protesters in th Northwest. [As background: "3 People Now in Jail for Refusing to Talk About Other Anarchists"]. It's possible that they will remain imprisoned for the full term of the grand jury, until March of 2014.
The grand jury appears to be investigating vandalism in Seattle during the May Day protests. But Lauren Regan, an attorney with the Civil Liberties Defense Center, learned that the grand jury was empaneled March 2, 2012 — before the May Day protests even took place. Activists, civil liberties advocates, and journalists have expressed concern that the grand jury is being used for social mapping of anarchists and leftists.
Using grand juries to harass, surveil, and disrupt social movements is nothing new. Robert Meeropol, son of Julius and Ethel Rosenberg, noted how grand juries have been used during the Red Scare, through the 1960s, and today:
Grand juries have been used as instruments of political repression for decades.  My parents, some family members, and their friends were hauled before a grand jury in 1950.  Some, cooperated, pointed the finger at others and even helped send my parents to their deaths with their testimony.  They received reduced sentences or no prison time. Those who did not cooperate, but were not indicted, were harassed by the prosecuting authorities for many years afterwards.  Those the grand jury indicted, who were then tried and convicted, went to prison or were killed.

While the stated purpose of the grand jury was to expose criminal behavior, it also served to sow anxiety and distrust throughout the community of activists who had any connection to my parents, as well as to spread fear among the broader progressive community.  Grand juries stifle activism and dissent in this manner.
In the face of this, anarchists in the Northwest have received international support from diverse social movements. Hundreds of supporters called and emailed District Judge Richard A Jones during a day of action. Teach-ins have taken place around the country. Benefit concerts have helped defray legal costs. "Anon-ops" activists disrupted the district attorney's office.
Pfeiffer, Katherine Olejnik, and Matt Duran say they have drawn inspiration and strength from that outpouring of support. The Stranger's Brendan Kiley interviewed Olejnik and Duran in jail, and reports:
They haven't been accused of a crime. They haven't even been arrested for a crime. They're here because they refused to answer questions for a federal prosecutor, in front of a grand jury, about people they may (or may not) know: who those people are, who those people hang out with, and what political opinions those people hold…

How, I ask Duran, would you explain why you're here to people on the outside?

"Not everyone will understand," Duran says in a soft voice. "You have to be in a different state of mind to be willing to go to jail to protect someone you basically have no knowledge of." He talks about his years as a young student in the Army ROTC, when veterans would come and talk about serving their country because they felt a sense of duty. Not answering questions about other people, he says, "is the duty I can perform."
What can you do?
Time in jail can feel especially dark during the holidays. (Kiley's article, above, captures this well, and I hope you will read it). Now would be a great time to write a letter to those imprisoned:
Matthew Kyle Duran #42565-086
FDC SeaTac,
P.O. Box 13900
Seattle, WA 98198

Katherine Olejnik #42592-086
FDC SeaTac,
P.O. Box 13900
Seattle, WA 98198