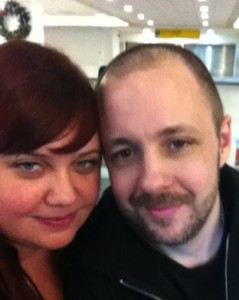 For the past four years Daniel McGowan had been imprisoned in two experimental prison units, called Communications Management Units, that radically restrict prisoner communication with the outside world. CMU prisoners are allowed only a handful of minutes on the phone each month, and they not allowed any physical contact during visits — not a hug, not even a handshake.
"I haven't been able to hug my husband, or even hold his hand, for two years," said McGowan's wife, Jenny Synan, in a lawsuit by the Center for Constitutional Rights against the facilities. "This proposed rule does not explain how prohibiting a husband from holding his wife's hand or keeping a father from hugging his daughter, is necessary for prison security."
McGowan was recently released from the CMU in Terre Haute, Indiana, and driven by federal authorities to Indianapolis International Airport. There he met his wife, and the two traveled home to New York City together.
"It's crazy to think its been 7 years since the day I was arrested at work but I'm glad to be on this path now and to be looking forward," McGowan said in an email to friends. "…I can't really express my gratitude for all the love, support, books, letters, visits, and random acts of kindness thrown my way these past 7 years — I tell people all the time I have been so profoundly spoiled by an amazing group of friends, family and allies."
McGowan was arrested in December, 2005, and imprisoned a year later for his role in two arsons claimed by the Earth Liberation Front. Much of his time imprisoned was spent in two CMUs, one in Marion, IL, and the other in Terre Haute, IN. According to the government, CMUs are for prisoners with "inspirational significance." In other words, they are used to isolate political prisoners like Daniel McGowan from the social movements that support them. [To learn more: "5 Things You Should Know About America's "Little Guantanamo"]
The journey home is not complete, however. McGowan was released to a halfway house in New York, where he will be living for at least the next few months. After that, there will be three years of supervised release.
McGowan is quickly adjusting to life post-prison. He has started work at a law firm, and says he's excited about vegetarian restaurants that are close enough for lunch breaks.
And McGowan, who always seems to be working, is busy catching up on the last seven years. Yesterday I received a reply to an email I sent to his support group while editing the book. It was dated December 19, 2010.
I asked him if he's really going to read through all the emails since he has been away.
"oh, i totally am. there are only 10,000 messages in the account,, should take a week."
Daniel McGowan has been released, but there are many other political prisoners needing your support. Please take a moment and write a letter to the anarchist grand jury resisters in the Northwest, the Cleveland 4, or others.