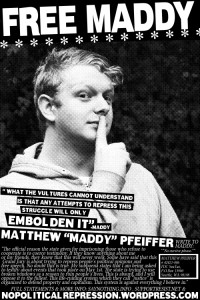 A fourth person has been jailed for refusing to cooperate with a federal grand jury that is targeting anarchists in the Pacific Northwest.
Maddy Pfeiffer self-surrendered to the Seattle, Washington federal detention center on Wednesday, December 26th as ordered by the court. Pfeiffer was accompanied by friends and supporters before being taken into custody.
Pfeiffer had previously appeared before the grand jury and asserted 1st, 4th, and 5th amendment rights in response to every question asked.
This is now the fourth person who has been imprisoned for refusing to testify before the grand jury about their political beliefs and political associations. Matt Duran and Katherine Olejnik have been in jail since September, and Leah Plante was released in October. [For background about them: "3 People Now in Jail for Refusing to Talk About Other Anarchists"]
It's unclear how long they may be imprisoned. The purpose of the imprisonment, according to the court, is to pressure them to cooperate with grand jury questioning.
Pfeiffer, Duran, and Olejnik say the grand jury is targeting them because they are anarchists, and they will not cooperate with what they say is a political witch hunt.
You can write Pfeiffer a letter here:
Matthew Pfeiffer #42421-086
FDC SeaTac
P.O. Box 13900
Seattle, WA 98198