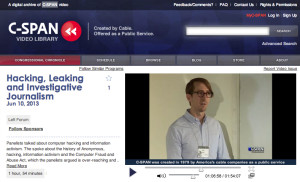 C-SPAN recently aired a panel discussion I participated in about hacking, leaking, and investigative journalism. The discussion is increasingly urgent, as Edward Snowden seeks asylum for his whistleblowing on NSA surveillance.
I spoke about "ag-gag" laws and other corporate attempts to keep the public in the dark.
It was a pleasure to speak with Gabriella Coleman, Gráinne O'Neill, and Abi Hassen. I hope you'll check it out. Here's more:
Over the past few years we have seen an unprecedented attack on hackers, journalists, whistleblowers, and other "information activists" who dare to let the public know what goes on within the corridors of power. The US government and its corporate partners have waged a full scale war on the ability of the public to access information. Yet as this takes place, we the public are being told that we no longer have a right to privacy, especially online. This panel will explore these trends and go into detail on the laws and lawless acts that are being used to suppress the public's right to information and ultimately the possibility of democracy. Topics of discussion will include

• "Anonymous", leaker, whistleblower, and hacktivist cases

• The CFAA, SOPA/PIPA and its ilk, Ag-Gag, and other laws

• Corporate control of the criminal law

• Comparative analysis of "hacking" laws in other countries

Moderated by Abi Hassen, Mass Defense Coordinator with the National Lawyers Guild. Hassen helped start the NLG NYC's Muslim Defense Project as well as the NLG's hactivist legal support network.

Speakers:

Will Potter

is an award-winning journalist, author, and public speaker who has become a leading authority on the animal rights and environmental movements, and civil liberties post-9/11. His reporting and commentary have appeared in media outlets including

Rolling Stone, Mother Jones, The Los Angeles Times, The Vermont Law Review,

and

The Washington Post

. He frequently is a guest on television and radio programs, including NPR, Pacifica Radio, RT, ArteTV, and Democracy Now.

Gráinne O'Neill is an attorney on the defense team for accused hacktivist Jeremy Hammond. She received her JD from Columbia Law and her BA in Mathematics and Computer Science from Cornell. Prior to her joining the Hammond team, Gráinne worked in New Orleans as a Public Defender then as a staff attorney at the Charles Hamilton Houston Institute at Harvard Law School where she creating computer resources for indigent defense attorneys nationwide.