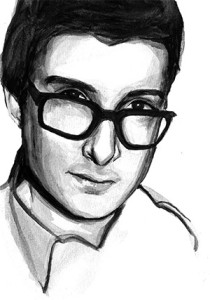 Jerry Koch has been imprisoned in New York's Metropolitan Correctional Center for nearly five months. He isn't accused of any crime. He was subpoenaed to a federal grand jury, where he refused to answer questions about his anarchist political beliefs and his community. I previously wrote about Koch's case for Vice, and Anna Simonton has recently published an excellent article about the use of grand juries to target political dissidents on Alternet.
Here's an excerpt:
Grand juries have been a tool in the FBI's arsenal of intimidation and information-gathering tactics for decades. They were a hallmark of the Red Scare, COINTELPRO, and more recently the Green Scare, in which animal rights activists and environmentalists have been branded "eco-terrorists" by law enforcement.

Over the past year grand juries have seen a resurgence as the FBI has cracked down on radical communities. Koch's case was preceded by a high-profile grand jury in the Pacific Northwest, where four people from Washington and Oregon were imprisoned for refusing to testify.

Will Potter, author of Green Is the New Red, a historical survey of the Green Scare, says there are parallels between these recent grand juries and past FBI interference in social movements. But these cases also mark what he views as a change in tactics on the part of law enforcement.

"When we're seeing things like the grand juries in the Northwest, or Jerry's case in New York, we have to remember that the FBI is giving training presentations to new agents identifying anarchists as 'criminals in search of an ideology,'" Potter warns. "What we're seeing is a criminalization of an entire belief system."
Please check out the full article on Alternet. And you can take action by visiting Jerry's Koch's support website.
Write him a letter of support today:
GERALD KOCH #68631-054
MCC NEW YORK
METROPOLITAN CORRECTIONAL CENTER
150 PARK ROW
NEW YORK, NY 10007