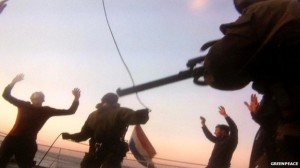 Greenpeace activists who peacefully protested on an oil platform are being charged with piracy by the Russian government.
Following the oil protest at the platform owned by Gazprom, the Russian state-controlled firm, the Greenpeace ship "Arctic Sunrise" was boarded by the Russian Coast Guard. The captain and 13 others have been sentenced to two months in prison pending a piracy investigation. They face 15 years in prison.
The activists were attempting to tie themselves onto the platform in order to raise awareness of Russia's first offshore oil rig, and the dangers of arctic drilling. The rig is scheduled to start operating by the end of the year.
Cameraphone photos taken by Greenpeace crew show activists with hands raised as police storm the boat.
"A charge of piracy is being laid against men and women whose only crime is to be possessed of a conscience. This is an outrage and represents nothing less than an assault on the very principle of peaceful protest," Reuters news agency quoted Mr Naidoo as saying.
You can take action here and tell Russian to release Greenpeace activists.