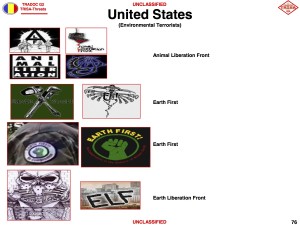 A U.S. Army training manual that instructs troops how to recognize terrorist organizations includes environmental groups like Earth First!, and lists the Animal Liberation Front alongside al-Qaeda.
The declassified manual was created by the U.S. Army Training and Doctrine Command, which says "This handbook is designed to specifically provide trainers, leaders and soldiers a 'hip pocket' reference to identify all the known logos used by insurgents, terrorists, paramilitary and other militant groups worldwide."
Among the listings are a page on "Environmental Terrorists," with images of Earth First! t-shirts and patches, and "animal liberation" t-shirts that have been sold by national non-profits since the 1990s.
Other terrorism threats identified in the United States include the Weather Underground, which dissolved in the 1970s.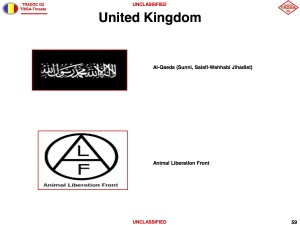 The 60+ page guide does include information on groups which, unlike Earth First!, have actually harmed human beings. However, this training guide offers no information on the types of threats these groups pose, and in doing so presents non-violent activists as violent threats. For example, one page on terrorism groups in the United Kingdom lists the Animal Liberation Front side-by-side with Al Qaeda.
As Ali Abunimah notes at ElectronicIntifida.net notes, the guide also conflates insurgent groups with entire communities:
on page 31 of the army guide itself, a simple Palestinian flag appears next to the name "Abu Nidal Organization (Sunni)."

The group, notorious in the 1970s, is designated as "inactive" by the US Department of Homeland Security-funded National Consortium for the Study of Terrorism and Responses to Terrorism at the University of Maryland…

In any case, even if the Palestinian flag were indeed the logo of any specific organization, the guide provides no warning or caveat that the Palestinian flag by itself should not be "recognized" as the symbol of a "terrorist, insurgent or militant" group given its global recognition as the flag of a country.
What's especially troubling about a guide like this is that it is created "to assist units in identifying groups by their logos found in videos, magazines, newspapers, graffiti and other types of media." In other words, it's meant to be a cipher for decoding First Amendment activity that might be created by "terrorists."
This has real-world consequences, as groups like Earth First! are putting their bodies on the line through tree sits, road blockades, and non-violent civil disobedience to stop environmental destruction. The Marcellus Shale campaign against fracking is just one example. Teaching military and law enforcement that these activists are on par with al-Qaeda, and that anyone who wears this logo is part of that threat, could have dangerous consequences.