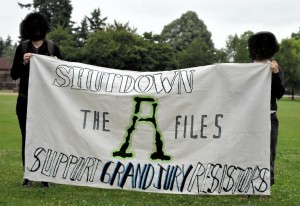 Another anarchist has been subpoenaed to a federal grand jury in Seattle investigating political activists in the Pacific Northwest, while a support group for grand jury resisters has decided to withdraw support from Leah Lynn Plante until she provides information about her terms of release from jail.
On October 25, 2012, two FBI agents served Matthew "Maddy" Pfeiffer with a subpoena in Olympia, Washington. Pfeiffer is scheduled to appear before the grand jury in Seattle on November 7. Three others have already been imprisoned for refusal to cooperate in any way, and Pfeiffer expects to be the fourth. In a statement Pfeiffer said:
I will never betray the people I care about, the ideas which I hold dear, or the commitments I have made. I will never give any information about crimes, should I have any knowledge of them, nor will I give information about my personal relationships. I will never cooperate with this or any attempt to stop struggle. I will never cooperate with the systems of control which I loathe. If the federal government chooses to imprison me for my refusal, then so be it. I expect no less from them…
Meanwhile, the Committee Against Political Repression, which is one of the support groups for grand jury resisters, has announced that it will no longer be supporting Leah Lynn Plante. Plante was imprisoned for her refusal to testify about her political beliefs and political associations, and due to a massive amount of publicity she became a public face associated with the grand jury resistance.
After a week imprisoned, Plante was released on October 17th. That news wasn't shared with the public until several days later. I was in the Northwest for speaking events in Eugene and Portland on the 17th and 18th, and spoke at length about her case and called for people to make donations and write her; no one knew she was actually out of jail, not even those who self-identified as her friends and supporters at the events.
A few days later Plante released a cryptic statement that began "do not panic." It also said she was traumatized that she could have been imprisoned for the 18-month grand jury term. Since then she has made other statements about internet commenters remarking about her appearance, and her supporters have posted cat photos, but no one will say anything about the grand jury.
The Committee Against Political Repression said it has withdrawn support until Plante provides information about the terms of her release: "We do not know what was said at that hearing. In the time since her release, Leah has not offered details regarding the subjects of the hearing, her response, or about her release. CAPR is withdrawing support for Leah until we get information regarding her grand jury hearing."
I delayed commenting about any of this because it is such a sensitive situation. Grand juries are secretive by nature, so it is impossible to know what was said during a hearing. It's impossible to know if someone cooperated, and it's impossible to know if they refused but were released in order to foster distrust and skepticism amongst their supporters. However, in light of Plante's refusal to communicate what actually happened two weeks ago, and in light of a new subpoena, CAPR's response seems appropriately cautious.
A support rally is being organized for Maddy Pfeiffer on November 7th in Seattle.