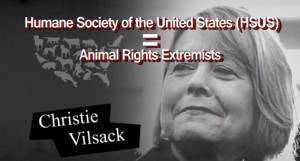 A television advertisement running in Iowa attacks Congressional candidate Christie Vilsack, calling her an "animal rights extremist" because she received a political campaign contribution from the Humane Society.
Vilsack is challenging Representative Steve King, who has repeatedly defended dogfighting and cockfighting, and fought federal efforts on even the most modest legislation. King has gone on the offensive against anyone who exposes what takes places on factory farms, being out front in support of Iowa's "Ag Gag" bill. The Humane Society calls King "the leading anti-animal welfare person in Congress" and documents a laundry list of grievances. It's no surprise that the group is backing his opponent.
The ad says:
Christie Vilsack has some interesting friends. The Humane Society of the United States is America's largest animal rights group. They've launched an all out assault on beef producers, while suing America's pig farms. They've given money to Vilsack's campaign, and are running attack ads against her opponent. Tell Christie Vilsack it's time to stand up for farmers, not animal rights extremists.
This new ad is paid for by Protect the Harvest, a Big Ag front group formed by Lucas Cattle Company and Lucas Oil to attack animal welfare advocates. Protect the Harvest attacks any attempts to improve the lives of animals on factory farms. According to industry publications, the group started because of Humane Society "extremists" attempting to regulate Missouri's puppy mills.
For decades, front groups like this have waged public relations campaigns labeling animal activists as "terrorists," and those efforts have increasingly shifted to more and more mainstream organizations. For instance, there have been full page ads in the New York Times labeling the Humane Society a terrorist organization.
But calling someone like Christie Vilsack an animal rights extremist is a new low in these guilt by association tactics. If there's one upside to this, it's that these tactics truly reflect the desperation of an industry afraid of exposure and accountability.