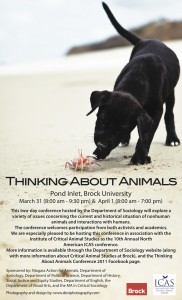 I'll be speaking at a couple events in just a few weeks (technically my first speaking events where I'll have copies of my book on hand, which is exciting).
The first is at the University of Connecticut School of Law:
"Approving Animal Abuse & Punishing Protest"

Will Potter and Justin Goodman will discuss the scope of animal experimentation in the United States, the laws that govern it, and how federal terrorism laws are being created and used against the nonviolent activists who are trying to end it.

Date: March 30, 2011
Time: 5:00 PM
Place: Blumberg Hall, University of Connecticut School of Law
65 Elizabeth Street
Hartford, CT 06105-2290

Vegan food from China Pan Restaurant will be provided courtesy of the sponsoring student groups.

Please invite your friends on the Facebook event page.
Right after the law school event, I'm heading up to Canada for the "Thinking About Animals" conference at Brock University, hosted by the Department of Sociology.
This two-day conference hosted by the Department of Sociology will explore a variety of issues concerning the current and historical situation of nonhuman animals and interactions with humans. The conference welcomes participation from both activists and academics. We are especially pleased to be hosting this conference in association with the Institute of Critical Animal Studies as the 10th Annual North American ICAS conference.

Sponsored by: Niagara Action for Animals, Department of Sociology, Department of Political Science, Department of History, Social Justice and Equity Studies, Department of English, the Department of Visual Arts, and the MA in Critical Sociology

Please invite your friend on the Facebook event page.

(NOTE: I'll be speaking Thursday, 3/31, at 7pm)

UPDATE: I'll also be speaking on Friday, April 1st, at a special event hosted by Niagara Action For Animals. As a bonus, it's one of their potlucks! It is at 7pm at the Unitarian Congregation of Niagara, 223 Church St., St. Catharines. Check out the Facebook event page for more.

Anyone planning on going to these events? Hope to see you there!
Here is a full listing of book tour events.