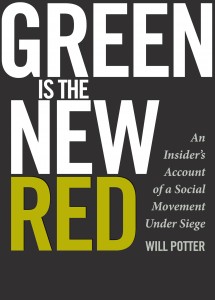 I'm excited that we've confirmed the details for two events here in Washington, DC!
Busboys & Poets

Tuesday, April 19th, 2011

6:30 pm

NOTE: it's the 5th & K NW location

Will Potter will read from and discuss Green Is the New Red: An Insider's Account of a Social Movement Under Siege

Invite your friends on the Facebook event page
But wait! You didn't think I'd work on this dang book for so long and not use it as an excuse to have a party, did you?
Book Launch Party at 826 DC

Saturday, April 23rd, 2011

7 pm

(right on top of the Columbia Heights metro stop)

Please share the Facebook event page with your friends
If you haven't heard of 826DC, it's part of the national 826 project founded by author Dave Eggers. They work with young people to promote literacy and a love of writing. In addition to being an incredible, passionate group of people, they're also very kind, and have opened up their space for this launch party.
Are you STILL not excited about this? Ok, I'll break out the big guns… Sticky Fingers is catering. You might have heard they just won the Food Network's Cupcake Wars. This will not disappoint.
Terrorism and cupcakes, together at last.
If you don't bring your snack pants, the terrorists win.
I could go on all day with these, folks.
Hope to see you at both of these events!
Here is a full listing of book tour events.