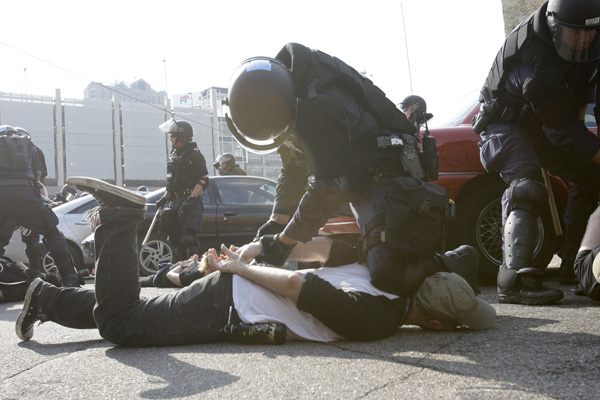 News continues to come out of the Twin Cities and the Republican National Convention of what I can only describe as a police state showing its true colors. If you read this site regularly, you know I stay far away from language and descriptions like that, because I think it's best to let the stories speak for themselves. But I'm at a loss of how else to describe this. Here as some of the highlights that the mainstream press has overwhelmingly ignored:
What's particularly disturbing is that the federal government and Joint Terrorism Task Forces have been instrumental in all of this. Minnesota Public Radio reported that the FBI was involved in the raids, and the Star Tribune reported that the raids were specifically "aided by informants planted in protest groups."
You'll remember that this is the same town where Joint Terrorism Task Forces were recruiting folks to infiltrate vegan potlucks. And you'll also remember how the government has used "infiltrators" to instigate and provoke illegal activity, such as with "Anna" in the Eric McDavid case, among others.
The mass media have overwhelmingly ignored all of this, while repeating absurd "official" soundbites. Headlines that proclaim "Police hope violent St. Paul protests will end" ignore the simple, crucial facts that police have stormed homes, confiscated leaflets, confiscated cameras, arrested journalists, arrested attorneys, and more. Stories of "protestors turning violent" are quite Orwellian, considering police kicked in the doors of peaceful protestors, armed to the teeth.
How can there be any discussion about protestors (both legal and illegal) without this context? Considering the overwhelming, unconstitutional assaults by the police, I think protestors should be praised for being so restrained.
The purpose of all this, as we've seen time and again, is two-fold. The first, through the press, is to further the myth that if you protest the right way you have nothing to worry about. The mayor said it well: "To pick up a protest sign, that's fine. If you're here to pick up a brick or some other instrument, there's a problem." If people continue to believe lies like this, while ignore attacks on First Amendment activity, this government repression will continue unabated.
The second purpose, regardless of the myths people believe, is to instill widespread fear in anyone who might even consider taking action.
On that note, it's inspiring to see how folks have responded. I'll leave you with an excerpt from today's press statement by the RNC Welcoming Committee
The actions taken yesterday prove that the tactics of intimidation, harassment, violent oppression, the snatching of specific individuals, and the profiling of activists will not stop committed people from taking to the streets for what they believe in and putting their bodies behind those convictions. These tactics were seen yesterday in the targeting of medical workers, journalists, legal observers, and the public. They are the same tactics used daily by police and governments around the world to terrorize and oppress those that they claim to serve…

The infrastructure that has been created for these actions with the help and support of the twin cities community has been amazing. 100's of people in Minneapolis and St. Paul have opened their homes to 1000's of protesters, Locals and newcomers have taken time off work and from their lives to cook meals, provide medical care, legal support, and transportation. We understand that it must be intimidating to see people organizing for themselves around the idea of mutual aid and solidarity, but in doing this we are actively creating the world we want to live in. This is work that we will continue to do for the rest of our lives.
What do you think? I know police response at big protests like this (WTO, FTAA, DNC/RNC) has often been extreme, but is this above and beyond?