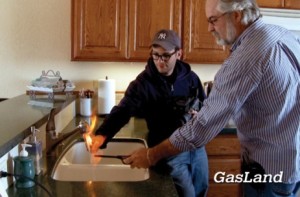 Residents of Maury County, Tennessee, have had problems with water quality, and some say their children have become ill from drinking tap water. After months of complaints to the state, State Rep. Sheila Butt held a forum for residents to voice their concerns. But the response from the Tennessee Department of Environment and Conservation wasn't what they expected.
The deputy director of the department, Sherwin Smith, said that complaints about water quality could be considered an "act of terrorism."
"We take water quality very seriously. Very, very seriously," he was recorded saying. "But you need to make sure that when you make water quality complaints you have a basis, because federally, if there's no water quality issues, that can be considered under Homeland Security an act of terrorism."
When dumbfounded residents asked him to clarify, he repeated the threat verbatim.
So let's recap:
If you attend a film screening of Gas Land, and learn how fracking is polluting your water, the Pennsylvania Department of Homeland Security considers you a terrorist.
If you protest how TransCanada's Keystone XL pipeline would threaten the water and land, the company will push law enforcement to prosecute you as a terrorist.
If you document the environmental threat of factory farms, fracking, and other industries, pending "ag-gag" legislation would make you a criminal.
And now we're seeing the same language about speaking up at a town hall meeting with state officials?
One has to wonder what kind of message state agencies are trying to send. If even the most innocuous advocacy for the environment and your health is labeled "terrorism," what reason is there for people to not turn to more extreme tactics?