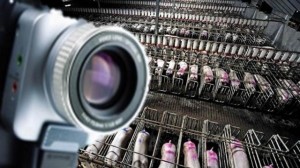 Looking forward to this! If you know folks in the area, please share (here or the Facebook event)!
Will Potter, award-winning independent journalist based in Washington, D.C. and author of "Green Is The New Red: An Insider's Account of a Social Movement Under Siege," will be speaking in Chattanooga on Thursday, Jan. 16 at 6 p.m. 
How did animal rights and environmental activists come to be targeted as "eco-terrorists" and labeled as the top domestic terrorist threat by the FBI? What is the connection between the criminalization of animal rights/environmental activism and the potential threat to corporate profits? What are the consequences for those working in the animal rights/environmental movements, and what are the risks for social justice activists in general?

More specifically, Potter will address "ag gag" legislation, which will likely be re-introduced into the Tennessee General Assembly in 2014.

"Ag gag" legislation was passed by the Tennessee General Assembly in 2013, but Gov. Haslam vetoed the bill after the state attorney general warned that the bill was "constitutionally suspect." The bill's sponsors, Sen. Dolores Gresham, R-Somerville and Rep. Andy Holt, R-Dresden, pledged to re-write the bill and re-introduce it in 2014.

"Ag gag" bills attempt to "censor whistleblowers, investigators, and journalists who expose animal welfare abuses on factory farms and slaughterhouses," Potter writes on his blog. "Investigations by groups like the Humane Society, Mercy for Animals, and Compassion Over Killing have exposed shocking animal cruelty and consumer health dangers in the food industry. They have led to the largest meat recall in US history, criminal charges, and international media exposure. Rather than put a stop to these abuses, corporations are trying to criminalize the whistleblowers who expose them."

Potter blogs at www.greenisthenewred.com. His work has been published in the Los Angeles Times, Mother Jones and the Vermont Law Review. He has also testified before Congress.

Potter is also one of the 2014Â TED Fellows.

This event will be an important overview and discussion for anyone working on issues surrounding animal rights, the environment, food labeling, and social justice in general, as well as anyone concerned about corporate power, free speech restrictions and First Amendment issues.

The event is free and open to the public and will be on the Fourth Floor of the Chattanooga Public Library.

Hosting the event are Mercy Junction, Occupy Chattanooga, Animals Vote Tennessee, Move to Amend Chattanooga, Chattanoogans Against Monsanto and Dixie Day Spay.