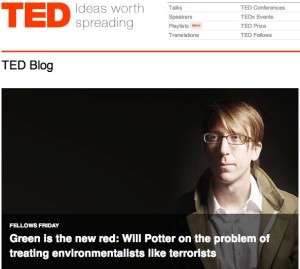 I'm thrilled to share this lengthy interview I did with the TED team about my journalism. As ya'll know, I was selected as a TED Fellow, which is just an incredible opportunity. I'll be speaking at the 30th anniversary TED conference coming up in Vancouver. Until then, I hope you'll check out this interview, and pass it around. Working with TED is an wonderful chance to share the work I'm doing with a much wider, new audience. Thank you!
Here's an excerpt from TED.com:
Is it ever difficult to draw the line between being on the side of the activists and being distanced enough to cover them? At what point do you just think: "OK, forget the journalism thing. I'm getting in there and throwing rocks?"

It is a really difficult line to walk, and one that I've struggled with for a really long time, especially in working on the book. But I think I came to the realization that what's most important is not to pretend that those relationships and friendships don't exist, but to be up front about it. I think my primary obligation as a journalist is to my readers, and to people who are seeing my work, that I have transparency. I don't pretend to be unbiased, but by acknowledging my biases — and acknowledging those relationships — I think it makes my reporting a lot stronger because people understand my approach and the context in which I'm saying things.

But you know, in terms of where to draw that line, and whether you should just put down the pen and pad and start being involved in these movements — frankly, the reason I do this work is because I saw all of this happening, and I didn't know what else to do. I've never been a great organizer for protests and things, and I've never been that inclined to lobby elected officials. I mean, I'm a writer, and I speak, and I do media.  I  thought that was the way for me to contribute, to have a role. I think even given the opportunity, I would still stay on this path, because I think that's what my skills are more useful for. I think that the challenge is everyone finding out what that is for them.