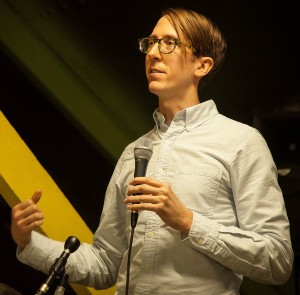 Hey everyone. After a really successful speaking tour of Australia and New Zealand, I'm back and scheduling speaking events for the fall and spring. I'd love to visit your town for a community event about how political activists are being labeled as "terrorists," and what we can do about it. "Ag-gag" laws were fought back last year, but they will undoubtedly be resurfacing again — events like this are a great opportunity to raise awareness.
I'm also scheduling events with Jake Conroy of the SHAC 7. We had a fantastic tour last year called "From Activist to Terrorist," where Jake spoke about his personal experiences being sent to prison as a animal rights terrorist, and I spoke about the broader political climate and how this all happened. Tour stops included Duke, Oberlin, and the University of Oregon, and we've gotten some great response. Check it out and see for yourself!
If you have any questions, you can email me directly at will@willpotter.com. And if you know any university students or professors who might be interested, it would be great if you could pass this along. Thank you!
Photo by Tim Watters, http://timwatters.net/