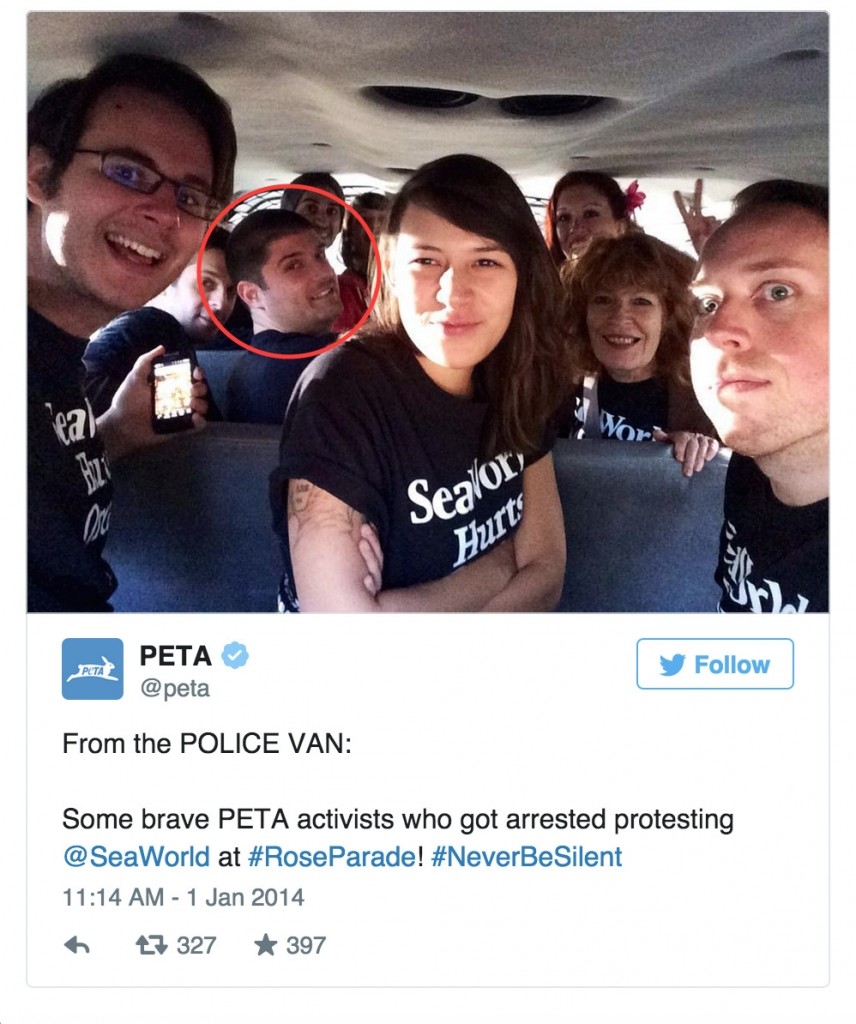 A Sea World employee has been posing for years as a PETA activist in an attempt to infiltrate animal rights protests against the failing company.
The corporate spy has protested Sea World at New York's Thanksgiving Day parade and even been arrested with PETA activists at the Rose Parade in 2014.
The man had identified himself as Thomas Jones, but PETA exposed his true identity as 28-year-old Paul McComb, who works in Sea World's human resources department.
"Time to take down Sea World"
One of the red flags that alerted PETA was McComb providing the group his address, which was a PO Box also used by Richard Marcelino, Sea World's head of security.
McComb also used social media to spy on and seemingly instigate protest activity. In one message, he said: ""What is the big surprise for the upcoming protest. Are we going up the gates or something?"
In another, he urged activists, "Grab your pitch forks and torches. Time to take down SeaWorld."
Sea World blames "extreme" animal rights groups for its spying
After being outed, Sea World hasn't denied it's covert operations. In a statement to Bloomberg, Sea World said that PETA hires investigators, too, and provided a link to a PETA job posting.
"We are focused on the safety of our team members, guests and animals, and beyond that we do not comment on our security operations," Fred Jacobs, a SeaWorld spokesman, said in a statement Monday. "This is a responsibility that we take very seriously, especially as animal rights groups have become increasingly extreme in their rhetoric and tactics."
A history of corporate espionage
Unfortunately, tactics like this are nothing new, especially in cases where activists have been increasingly effective at threatening corporate profits.
Coca Cola has also hired a spy firm, Stratfor, to investigate PETA.
Burger King hired a corporate espionage team to spy on the Student/Farmworker Alliance.
In the 1980s, a vivisection company, US Surgical, hired a corporate spy firm called Perceptions International to infiltrate and disrupt animal rights groups. A woman named Mary Lou Sapone infiltrated protest groups, and she prodded and coerced an activist named Fran Trutt into a bomb plot.
The plot failed, but it was US Surgical that was "increasingly extreme," as Sea World says — not animal rights groups. [Here's a detailed history of the US Surgical infiltration.]
"Little research on newcomers"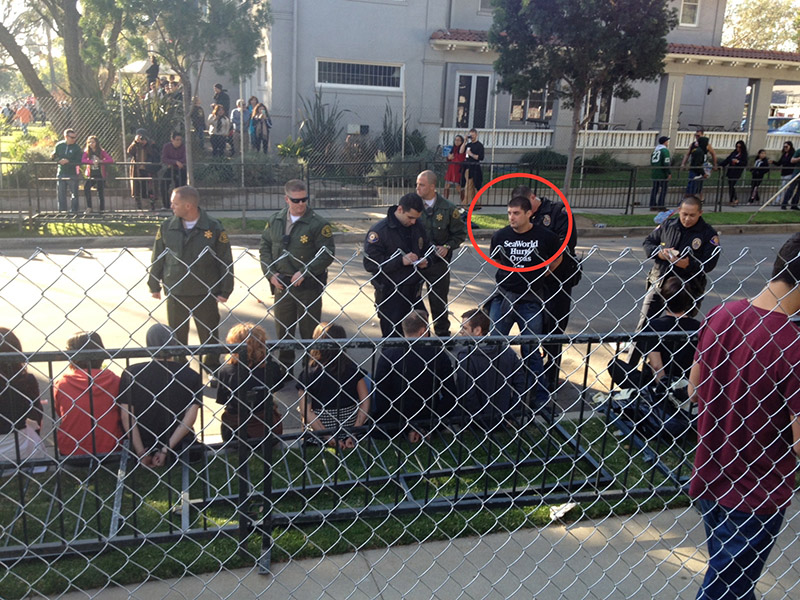 An FBI document I wrote about several years ago shines a light on the challenge informants pose to social movements: protest groups need to be welcoming of new members, but they also need to be skeptical of surveillance and disruption.
"The Animal Rights Movement does little research on newcomers into the movement and basically goes with its gut instinct as to whether a person is an informant or not. Organizers of the Animal Rights Movement can be discredited and removed from the scene by planting rumors that they are plants and/or informants." [emphasis added]
In this case, PETA did everything right — rather than spreading rumors or gossiping, PETA activists did their research, obtained photos, and confirmed what was happening.
However, the real danger of these "dirty tricks" by Sea World is that they may make activists distrust one another, and distract themselves from the campaign.
As Sea World attendance and share prices plummet, and as celebrities like Willie Nelson and companies like Southwest Airlines sever ties, that might be exactly what the company wants.