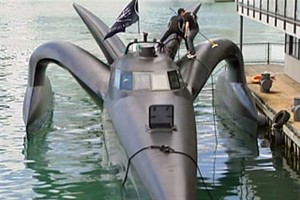 From EcoRazzi:
And so it begins: Earthrace, one of the fastest powerboats on the planet, has been given a full Sea Shepherd makeover. From kevlar body armor to undetectable broadband radar, nightvision systems, Iridium openport comms, and a new paint job that actually scatters radar signals and provides additional stealth. If Earthrace was badass before, it's now firmly somewhere in the ninth circle of hell giving Satan a hard time.

Sea Shepherd's Operation Waltzing Matilda against the Japanese whaling fleet begins this December.
Um, if the Japanese whalers thought Sea Shepherd was a "terrorist organization" before (and so was Animal Planet, they said), I can't wait to hear what they have to say after seeing Captain Paul Watson in control of this beast.
No word yet whether the U.S. Attorney's Office will be investigating Bruce Wayne for violating the "material support" terrorism provisions of the Patriot Act.