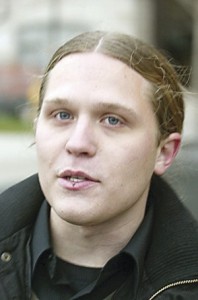 Scott DeMuth pleaded guilty today to a misdemeanor conspiracy charge for releasing ferrets from a Minnesota farm. As part of the deal, he will no longer be charged with conspiracy to commit "animal enterprise terrorism" in relation to a University of Iowa Animal Liberation Front raid.
DeMuth had previously resisted a grand jury fishing expedition, and been labeled an "anarchist" and "domestic terrorist" by the government. His faculty advisor at the University of Minnesota has also been harassed by the FBI.
As part of the deal, he will not be forced to cooperate with the government. He faces approximately six months in prison for the misdemeanor charge.
The plea agreement comes as DeMuth was set to begin trial Tuesday. From the start, DeMuth has maintained his innocence in relation to the University of Iowa case. Prosecutor Cliff Cronk has re-indicted DeMuth twice, in response to arguments by defense attorneys that the government's case is thin and vindictive: the second superseding indictment added an allegation of a raid at Lakeside Ferret, in Minnesota.
The government seems to have taken whatever it can get in this case: a lesser charge in lieu of "terrorism" charges, which fell apart. The terrorism investigation of the University of Iowa ALF raid, is likely not over, however. Recent FBI raids in other states have been part of that investigation, as have visits by FBI agents to local activists.