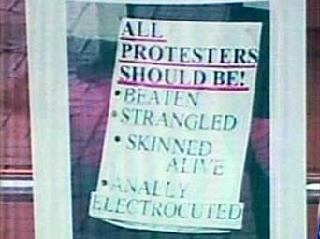 A 111-year-old Portland fur store closed last week after ongoing protests by local activists, and the owner of the store says he has been "terrorized." Greg Schumacher of Schumacher Furs & Outerwear says the Animal Enterprise Terrorism Act should be used to silence the protestors. The New McCarthyists are rushing to his defense, trying to spin the successful, legal campaign as "eco-terrorism" because it has hurt corporate profits.
Patti Strand, national director of the National Animal Interest Alliance, an industry group, told The Oregonian:
"There's no question the lines of free speech are being probed by the kind of protest activity that has been going on in front of Schumacher's," she said.
Really? That's not what city officials say. Spencer Heinz and Seth Prince at The Oregonian reported:
City Commissioner Randy Leonard, who said he'd offered to help Schumacher and his wife, Linda, after the protests started last November, recalled how quickly he came to regret the move.

"I honestly had never been involved in anything in which I felt like the folks I was trying to help did not want to be helped," Leonard said.

"The Schumachers carry at minimum — at minimum — equal responsibility for what happened outside their store," Leonard said. "I think the case could be made they did what they could to fan the flames at every opportunity."
Schumacher has put signs in his window, like the one posted here from KGW.com advocating violence against nonviolent activists. And activist Matt Rossell said the Schumacher security guard has threatened to "break your arms and legs."
Meanwhile, Portland police have spent about $25,000 to appease Schumacher and have a presence at the demonstrations. The protests usually involve a dozen people on Saturday afternoons, and there have been 13 arrests since last December (none for violence).
Police say Schumacher has rejected their advice and prompted more protests. The Mayor, Tom Potter (no relation) offered to mediate but Schumacher replied, "I don't think it is reasonable to ask me to mediate with a terroristic organization."
That scare-mongering and green baiting has worked its way into public discourse as well. Local letters to the editor have proclaimed "animal terrorists win," and implied activists will go after anyone with a leather couch.
There has been a flood of statements from corporations and the politicians that represent them about how the Animal Enterprise Terrorism Act won't be used to silence First Amendment activity. (Never mind the fact that the original law was used to do exactly that, and convict the SHAC 7 on "terrorism" charges for running a website.
Yet here we have a business owner targeted by legal protests who expects the law to protect his profits. And industry groups have come to his defense, also expecting the law to protect his profits. Activists, though, don't know what to expect from this vague and overly broad legislation—and that's the danger. As a local news station said about the bill, "It's language is not crystal clear." It remains to be seen how the law will be used to overtly silence dissent. In the meantime, activists are preparing for the next campaign.