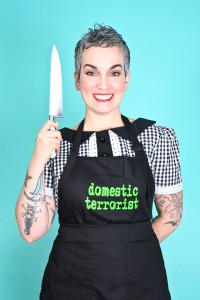 Sarah Kramer makes "domestic" terrorism look good.
Check out some of her fantastic vegan cookbooks below, including Vegan a Go-Go and the classic How It All Vegan. If you buy them through these Amazon links, a portion will be donated to GreenIsTheNewRed.com.
And holidays are coming up, folks, so show the domestic terrorists in your life you love them. You can order an apron at GreenIsTheNewRed.com/blog/shop. Every penny goes back into website costs, flier distribution and other projects related to exposing the Green Scare and campaigns to label animal rights and environmental activists as eco-terrorists and domestic terrorists.
Thanks very much to Sarah for having the same twisted sense of humor that we do.