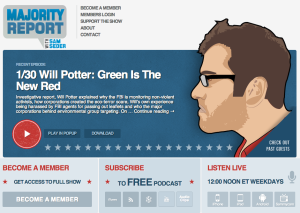 I had a great time talking to Sam Seder for the latest episode of The Majority Report. Here's a description of the show:
Investigative reporter, Will Potter explained why the FBI is monitoring non-violent activists, how corporations created the eco-terror scare, Will's own experience being harassed by FBI agents for passing out leaflets, and who the major corporations behind environmental group targeting.
Listen to the interview over at The Majority Report. (With intro music from The Clash, how can you go wrong?) Big thanks to Sam and his crew for having me on the show.