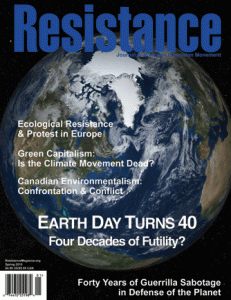 The new issue of Resistance magazine is out, taking a look at the environmental movement on the 40th anniversary of Earth Day. It has great articles by Eliza M. Adam, Steve Best, Davey Curnow-Garland, Michael Donnelly, Jim Flynn, Leslie James Pickering, Kim Marks, and Stu Sugarman.
I have an article in there as well, about how environmentalism has become mainstream, while environmentalists have become "eco-terrorists." [Expanding on the ideas in my recent post here, "From Earth Day to "Eco-Terrorism.'"]
You can pick up a copy at your local independent bookstore, and also at Borders, Hastings, and Books a Million. It's a hard time for independent publications and indie bookstores, please support them!