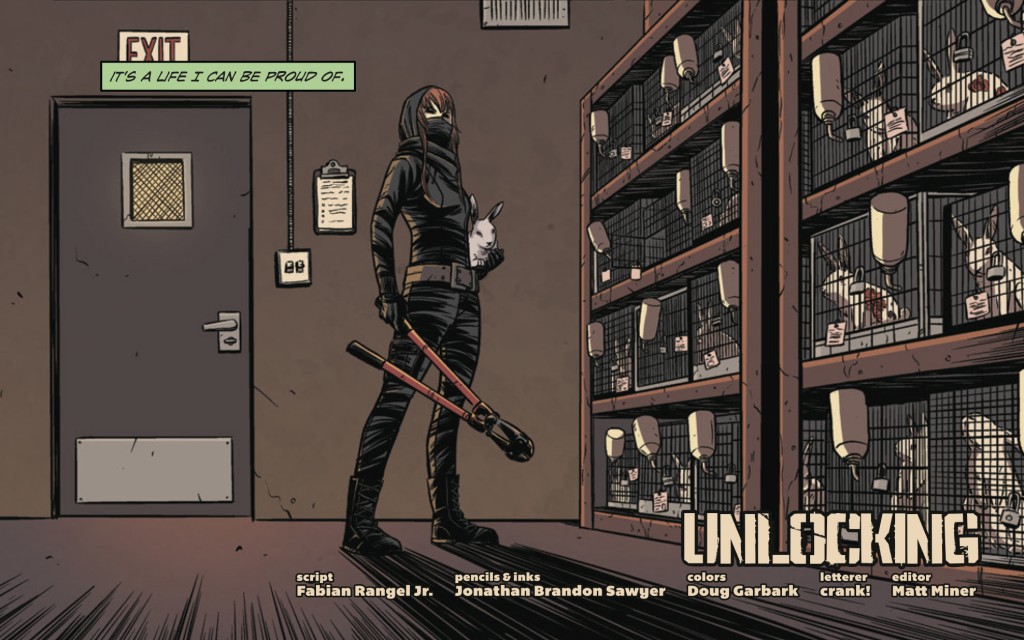 When I received this collection of comics, I had to drop everything and read all of them. Liberator is a series about young vigilantes who go above the law (and go underground) to rescue animals from vivisection labs, dogfighting rings, and anywhere else they are abused.
What I love about the series is that it presents a counter-narrative to the political reality of "eco-terrorism." The comics are of course fictitious. But they are also grounded in radical activism, drawing inspiration from groups like the Animal Liberation Front. When presented in comic form, these characters seamlessly transition from so-called "terrorists" to freedom fighters. 
"Real heroes don't wear capes," Liberator's tagline says. "They wear ski-masks."
These are sympathetic characters and inspiring heroes. And for that reason, I have no doubt vivisection groups and animal abusing industries are going to flip out about the collection. TERRORIST PROPAGANDA! I can see the press releases now.
Liberator Volume 1: Rage Ignition collects the series in a book, and also includes new material. It will be out next week. Liberator was created by real-life dog rescuer Matt Miner, and the book is being published by Black Mask Studios, the new comics publisher from Brett Gurewitz (Bad Religion), Matt Pizzolo (Occupy Comics), and Steve Niles (30 Days of Night).
The folks at Black Mask Studios were kind enough to let me run this preview of one of the new comics. They were all fantastic, but you can probably guess why I chose this one.
"Unlocking"
Written by Fabian Rangel, Jr.
Illustrated by Jonathan Brandon Sawyer
Colored by Doug Garbark
Lettered by CRANK!