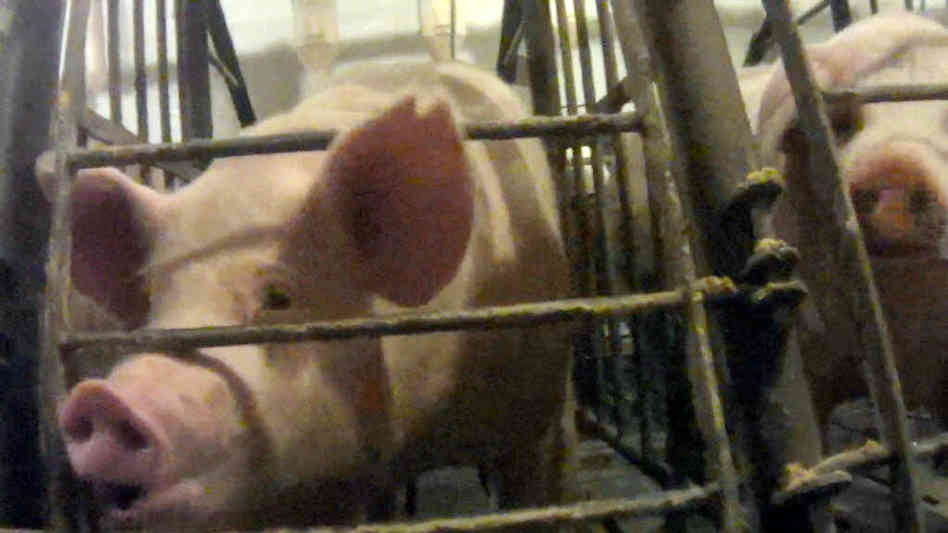 Kentucky is the latest state to consider "ag-gag" legislation, which would make it illegal to photograph animal cruelty on farms and slaughterhouses. The bill was introduced just weeks after an undercover investigation by the Humane Society exposed a Kentucky pig factory that held pigs in tiny crates and fed what NPR called "piglet smoothies"—the remains of diseased piglets—to their mothers.
There are only a few days left in the legislative session in Kentucky, and the lawmakers behind this dangerous proposal are moving quickly. The "ag-gag" provision was slipped into HB 222 at the last minute to avoid public scrutiny and debate.
Even more audaciously, they attached it to legislation that is intended to reduce animal suffering by setting euthanasia standards for shelters.
The "ag-gag" amendment would "prohibit agricultural operation interference that involves gaining employment by fraud to obtain a video or audio recording, conducting video or audio recording of an agricultural operation by pretense, or trespassing on an agricultural operation to obtain a video or audio recording."
You would think that at this point, after so much consumer backlash to ag-gag, after opposition from Amnesty International, Human Rights Watch, the ACLU, and dozens of other organizations, that the agriculture industry would at least try to *pretend* that these laws aren't about hiding their practices from consumers.
But when the Humane Society exposes horrific animal cruelty at factory farms like Iron Maiden, in Kentucky, and then a few weeks later the industry backs new legislation to make that whistleblowing illegal, Big Ag's intentions are quite transparent.
"It's a pretty big priority because we're seeing a trend," said Jeff Harper, director of public affairs for the Kentucky Farm Bureau, to the Associated Press. "Now it's coming to Kentucky, and as a farm organization we thought it was our duty … to take some action."
Instead of criminalizing the investigators and whistleblowers, perhaps the industry would be better off deciding to "take some action" and stop the practices that consumers find so appalling.
If you'd like to take action:
Please contact your state Senator today and politely say: "as your constituent, I urge you to oppose the anti-whistleblower Ag-Gag portion of HB 222 and to pass this bill WITHOUT ANY COMMITTEE SUBSTITUTES OR OTHER AMENDMENTS !" 1-800-372-7181!