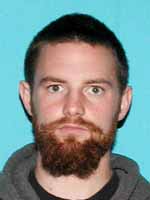 Justin Solondz was arrested by the FBI on Wednesday after being extradited from China, where he was imprisoned on drug charges. Solondz was wanted by the FBI for his involvement in arsons claimed by the Earth Liberation Front, particularly the arson at the University of Washington Center for Urban Horticulture.
Solondz is alleged to have helped created the incendiary devices used to destroy the lab. Recently, his co-defendant in the case, Briana Waters, changed her plea to guilty and agreed to cooperate with the government. If this case goes to trial, Waters will likely be forced to testify against her former friend.
The FBI was quick to issue a press release trumpeting the arrest, and attributing it to the "dogged persistence and long term patience of the FBI." However, the real story isn't nearly so flattering.
The entire "Operation Backfire" investigation of the Earth Liberation Front was made possible by chance, when the FBI pressured Jacob Ferguson in another case, and the heroin addict confessed to a string of arsons. Ferguson, the informant in the largest domestic terrorism investigation by the FBI, was recently sentenced to 5 years in prison for heroin charges and for endangering his daughter.
Solondz was arrested in China on drug charges. If anyone could claim this arrest as a "victory," it is Chinese police, not the FBI.
The primary strategy of the FBI against all of the ELF defendants was to instill fear. The defendants, who did not harm a human being but were accused of serious property destruction, were threatened with multiple life sentences. Many received the "terrorism enhancement."
I point all of this out because it helps put into context the FBI's relentless clamoring for recognition and validation in this "terrorism" case. Agents and prosecutors are looking to make career advancements by cracking down on "eco-terrorists," and it should make everyone pause, regardless of how you feel about these individuals and tactics.
To raise this question another way: When the FBI proudly says it is tracking environmentalists "across eastern Europe, Russia, Mongolia, and China," what other threats are not being so doggedly pursued?