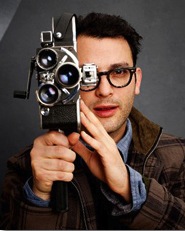 Josh Fox, the director of the Academy Award-nominated documentary Gasland, was arrested by Capitol Hill police today as he and his crew of journalists attempted to film a public hearing on a controversial natural gas issue.
House Republican leadership directed Capitol Hill police to detain the film crew. Approximately 16 officers entered the room. Apparently there were objections to Fox and the crew not having proper credentials (which, if given the opportunity, could have been easily obtained).
Zach Carter at Huffington Post has a detailed account, which he has been updating. (Politico also has decent coverage.)
I have received dozens of tweets and emails about this (and the Huffington Post article in particular) and I would like to caution readers against attributing these events to any conspiratorial efforts at keeping the hearing secret. Fracking is a nasty practice that involves nasty corporate interests, and Homeland Security has been spying on screenings of Gasland, but I don't think that's why this happened. I don't suspect this is about being pro-fracking or anti-environmentalist.
I think the reality is far less sexy: politicians like to think they have a monopoly on power, and don't like that power challenged.
In other words, they behaved irrationally because they are bullies and thugs. I don't mean that as mere name calling. Events like this need to be understood in the context of the bigger assault on journalists. (Something I had personal experiences with recently).
There's a reason that the United States fell 27 places to #47 in Reporters Without Borders' Press Freedom Index.
I doubt this will deter Fox and his crew. But maybe it will bump up sales of the Gasland DVD?
UPDATE: Mat McDermott at Treehugger raises similar points in his great post.