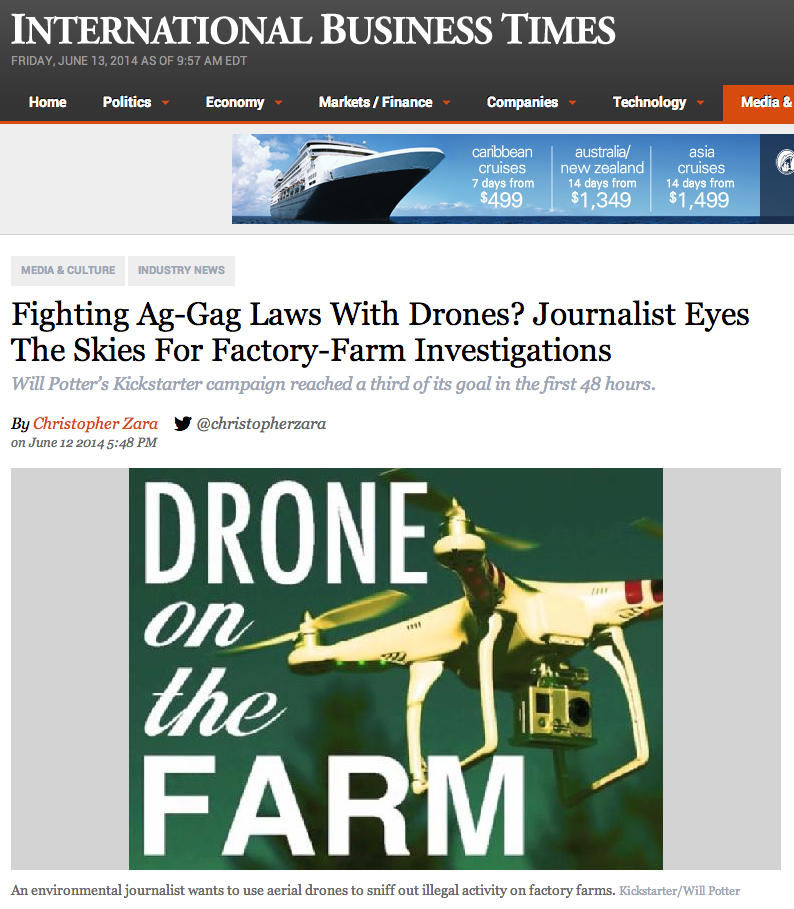 Here's a great article by Christopher Zara for the International Business Times about my latest investigation, which is being funded through Kickstarter.
An excerpt:
What if you could capture a drone's eye view of illegal activity on factory farms? One imaginative journalist thinks you can, and he's enlisting the help of hundreds of Kickstarter backers to make it happen…

Potter's campaign comes at a time when the privately held Kickstarter Inc., a pioneer in the crowdfunding revolution, is struggling to compete with newer players such as Indiegogo and GoFundMe. Earlier this month, the site loosened its restrictions, opening up its platform to non-creative projects for the first time. And on Wednesday, Kickstarter added two new categories, "crafts" and "journalism." The site has always allowed journalistic campaigns, but they would be categorized under a different tag, such as publishing.

As of Thursday afternoon, Potter's drone campaign topped the list of the new category, which features some 996 projects.
Check out the full Kickstarter page here. It's already 90% funded! Be on the lookout for how the project will be expanded if we exceed the goal…