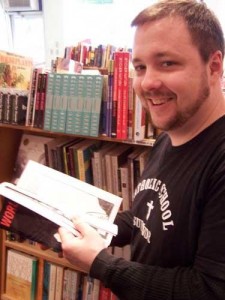 I was supposed to meet Daniel McGowan for coffee today, and got an email from him last night that his work pass was denied. The revocation of his pass was a surprise, because McGowan has done everything possible to adjust himself to life post-prison, including securing a job at a law firm, and reporting to work and to his halfway house every day on time. However, he expected to be able to go back to work on Friday. Instead, he was taken into custody.
He is now imprisoned at the Metropolitan Detention Center in New York City.
There has been no official word from the Bureau of Prisons about his re-incarceration, and attorneys at the Center for Constitutional Rights are working on this now. But the drastic move comes just days after McGowan wrote about his experiences in a secretive prison unit for domestic terrorists called a Communications Management Unit (CMU), and it fits an on-going pattern of behavior by the Justice Department and Bureau of Prisons attempting to keep this prisons out of the public spotlight.
As background: McGowan was convicted in 2006 for his role in two Earth Liberation Front arsons in opposition to genetic engineering and to the logging of old-growth forests. He was profiled in the Oscar-nominated documentary "If a Tree Falls." McGowan was sentenced to 7 years in prison, and the court applied what's called a "terrorism enhancement."
The terrorism enhancement reclassified McGowan within the Bureau of Prisons, and he was later moved to a CMU. As I have reported extensively, these prison units radically restrict prison communications to the outside world, to levels that meet or exceed some of the most restrictive prison units in the country. In the government's proposal to make these prison units permanent, they were described as facilities for prisoners with "inspirational significance."  [For additional information about the CMUs, here is an interview I did with Democracy Now.]
McGowan was released to a halfway house in Brooklyn to serve the last few months of his sentence. After receiving new court documents related to his incarceration, he wrote an article for the Huffington Post this week: "Court Documents Prove I was Sent to Communication Management Units (CMU) for my Political Speech."
Memos authored by Leslie Smith, the Chief of the CMU, reveal that McGowan was targeted his political beliefs. In his writing, McGowan outlined some of the speech that was used to justify his transfer to a domestic terrorist prison:
My attempts to "unite" environmental and animal liberation movements, and to "educate" new members of the movement about errors of the past; my writings about "whether militancy is truly effective in all situations"; a letter I wrote discussing bringing unity to the environmental movement by focusing on global issues; the fact that I was "publishing [my] points of view on the internet in an attempt to act as a spokesperson for the movement"; and the BOP's belief that, through my writing, I have "continued to demonstrate [my] support for anarchist and radical environmental terrorist groups."
If McGowan's incarceration is retaliation for his First Amendment activity, it would fit a pattern of behavior by the Justice Department and Bureau of Prisons to keep these units secretive.
As I reported in my book, journalists are not allowed in the CMUs. I was permitted to visit McGowan in the CMU only as a friend, and McGowan was told that if I asked any questions or reported about the visit he would be punished. The government threatened to retaliate against a prisoner for the First Amendment activity of a reporter.
A Freedom of Information Act request revealed that the Counter-Terrorism Unit has kept files on journalists' lectures, articles, and media interviews about the CMUs.
Examples like this highlight why it should come as no surprise that the Bureau of Prisons would retaliate against McGowan for speaking up about these secretive units. The BOP and the Counter Terrorism Unit have only been able to surveil journalists and make indirect threats: with McGowan, they are able to directly punish him.
It's hard enough to transition from life in prison to a "normal" life back home in New York. It's especially traumatic to then be ripped from that, and put back behind bars. Please consider writing him a letter:
DANIEL McGOWAN
#63794-053
MDC BROOKLYN
METROPOLITAN DETENTION CENTER
P.O. BOX 329002
BROOKLYN, NY 11232
UPDATE: Daniel McGowan has been released. According to a statement from his attorneys at the Center for Constitutional Rights, the Bureau of Prisons arrested him under a provision of the law that was found unconstitutional in 2007:
Daniel McGowan has been released from the Metropolitan Detention Center in Brooklyn where he was taken into custody yesterday and is back at the halfway house where he has been residing since his release from prison in December. Yesterday, Daniel was given an "incident report" indicating that his Huffington Post blog post, "Court Documents Prove I Was Sent to Communication Management Units (CMU) for My Political Speech," violated a BOP regulation prohibiting inmates from "publishing under a byline."  The BOP regulation in question was declared unconstitutional by a federal court in 2007, and eliminated by the BOP in 2010. After we brought this to the BOP's attention, the incident report was expunged.